The annual One Huge Night Gala in Los Angeles on May 12, 2022 was a heartwarming and uplifting event held on an outdoor patio at the SLS Beverly Hills. The evening featured the introduction of a child to the man who saved her life, an award in the memory of famed director and Gift of Life transplant recipient Steven Bochco, and the recognition of one of our key corporate partners, PSI CRO.
Second grader greets her lifesaving bone marrow donor from afar
Although a last minute travel issue prevented bone marrow recipient Aileen McNearney and her family from being at the gala in person, a Zoom connection was quickly arranged to ensure they would be able to meet Aileen's donor as promised.
That donor, Andrew Scott, a software engineer from Santa Clara, Calif., joined the registry in 2016 when a Gift of Life Campus Ambassador made a presentation to the football team.
"I swabbed along with the rest of my teammates," said Andrew. "It was simple to do and seemed like a nice opportunity to help, though unlikely due to how rare matches are. I was really excited when I got the call in April 2020. I was grateful for the chance to help someone in need."
Aileen desperately needed that help. In January 2020, she was diagnosed with Acute Myeloid Leukemia after she had not been her usual self for several weeks, and then had to be wheeled back from a family hike in her baby brother's stroller. After her parents Sean and Haley learned the diagnosis, doctors recommended a bone marrow transplant to give Aileen the best chance of recovery.
"We were sad that we were not close enough matches for her," said Haley. "The search took about a month while our friends helped try to recruit people into the registry. We were thrilled that a perfect match for Aileen was found to already be registered."
During their introduction, while Andrew stood on the stage in Los Angeles, Aileen and her parents joined in via Zoom. Though a little bashful, Aileen told Andrew, "Thank you" several times, and her parents were clearly thrilled to meet him.
Steven Bochco Award presented to bone marrow recipient Brianne Dollar

Gift of Life and the family of famed television producer and writer, Steven Bochco z"l, present the Steven Bochco Award annually to a Gift of Life volunteer, donor, or recipient who has creatively used their vision, innovation and personal story to educate the public about the need for donors to join the registry and further Gift of Life's mission.
Sean Flanagan, Hollywood director and stepson of Steven Bochco z"l, and Jon Kayne, Steven's stem cell donor, took the stage to announce The Steven Bochco Award winner. But there was a twist! After talking about Bochco's life, creative works and enduring influence on entertainment, they welcomed Gift of Life bone marrow donor Tony Joe Connell to join them and have the honor of presenting the award.
Tony Joe was thrilled to be able to present the 2022 Steven Bochco Award to his incredible recipient, Brianne Dollar. She was diagnosed with leukemia while a senior in high school and was in dire need of a lifesaving transplant. Her match, Tony Joe, was already in Gift of Life's Registry, and the transplant was a success.
Brianne was introduced to Tony Joe for the first time in February 2020 at a Nashville Predators hockey game (click here to read story). After meeting, the two became fast friends, and upon entering college, Brianne became a Gift of Life Campus Ambassador. She has used her own survival story to promote Gift of Life, recruited nearly 400 new donors to the registry (resulting to-date in four matches), and currently, she and Tony Joe are participating in Gift of Life's Swab With Pride campaign.
"I am so grateful to Gift of Life for the hope they give people through these matches," said Brianne. "The past three years [since receiving a transplant] have been the best years of my life. Thank you."
PSI CRO receives Gift of Life Corporate Partner Award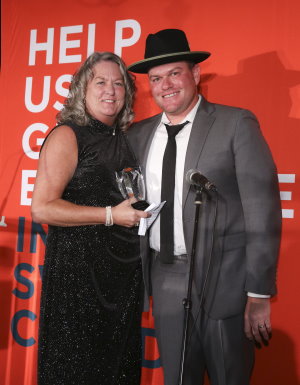 Gift of Life Founder and CEO Jay Feinberg presented the Corporate Award to PSI CRO in recognition of outstanding commitment to our mission. The award was accepted by PSI CRO Senior Director, Operations Rhonda Critchlow and Senior Director of Business Development Jeremie Braun.
PSI CRO became involved with Gift of Life Marrow Registry after learning about the organization from Jeremie, who put forth an extraordinary effort in 2016 to find a matching donor for Adam Krief z"l.
PSI CRO took on Gift of Life's mission as their own, and has since partnered with Gift of Life to hold recruitment drives during the American Society of Hematology (ASH) and American Society of Clinical Oncology (ASCO) conferences, as well as annually inviting their employees to join Gift of Life during World Marrow Donor Day.
In 2019, PSI CRO sponsored an apheresis chair in the Dr. Miriam and Sheldon G. Adelson Gift of Life–Be The Match Collection Center. The apheresis chairs are specialized medical equipment, where Gift of Life donors give peripheral blood stem cells for transplant.
"The Voice" singer Michelle Ray provided musical entertainment
Michelle Ray is a soulful singer-songwriter from Los Angeles whose talent landed her a spot on NBC's The Voice Team Blake during Season Four. The popular and talented singer provided a set of music to entertain Gift of Life's guests during dinner. She also performs live in the Los Angeles area and recently finished a sold-out tour of Japan with the European band Veil of Obscurity, where she is lead singer.
---
Photo Gallery
To view and download photos in the gallery click here.

---

Thank you to everyone who attended One Huge Night Los Angeles. We deeply appreciate your support for our mission: to ensure that every person in need of a marrow or blood stem cell donor can find one at the time they are needed.