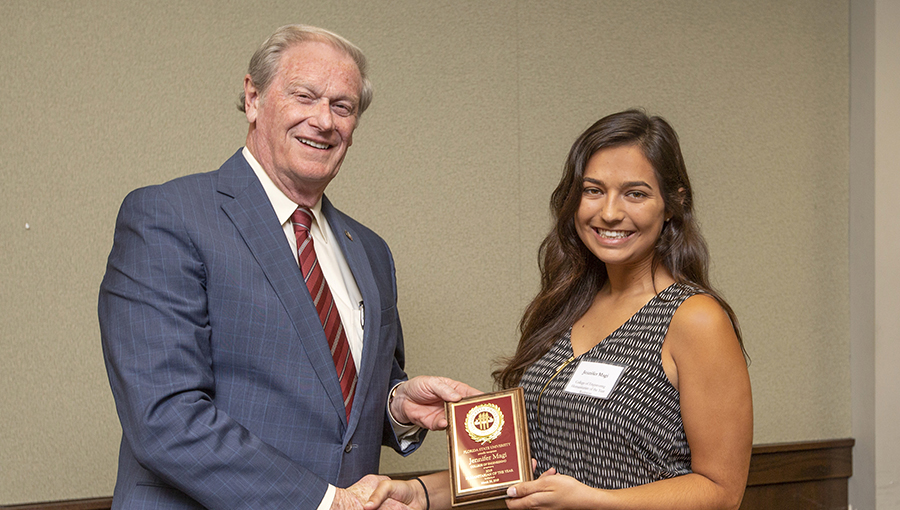 Gift of Life Campus Ambassador named Humanitarian of the Year by FAMU-FSU College of Engineering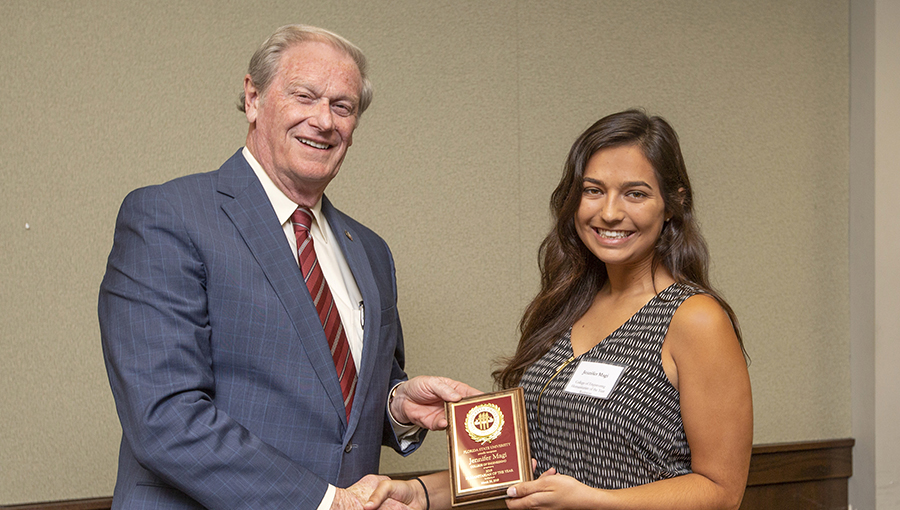 Florida State University President John E. Thrasher presents Jennifer Magi with the FAMU-FSU College of Engineering 2019 Humanitarian of the Year Award.
Gift of Life's Campus Ambassador for Florida State University Jennifer Magi knows exactly how urgent it is to add bone marrow donors to the registry. In August 2017 her father, Mike, learned the fatigue that plagued him was caused by Acute Myeloid Leukemia.
"The diagnosis was a massive shock, he leads a healthy and active lifestyle free of the high-risk habits associated with cancer," said Jennifer. Doctors immediately treated her father with a month of intensive chemotherapy, but his long-term prospects were not good. "With AML, there is a 90 percent chance it will come back within five years, and once it returns, it is fatal," she said.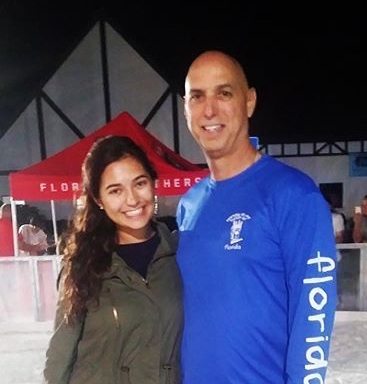 Although Mike was in remission, to be cured he would need a bone marrow or stem cell transplant. For this to work, a donor with a complete immune system match – virtually Mike's genetic twin – would have to be found. The search took three months, requiring two more rounds of chemotherapy to keep Mike in remission and able to accept a transplant. He was incredibly lucky, three possible matches were identified in the worldwide registry, and one of them turned out to be perfect. Mike received his transplant in March, 2018.
While in the hospital, Mike saw a public service announcement by Kristen Bell about Gift of Life's need for new donors, and he and Jennifer looked through the website to learn how they could help run drives. When she learned about the Campus Ambassador Program (CAP), she saw a great opportunity to pay it forward and attended the CAP Symposium in fall 2018. She and her father both spoke to the attendees about his transplant and their family's experience.
Bringing the program with her to Florida State University, Jennifer founded the required Registered Student Organization in order to hold tabling events and presentations on campus. "Working with Gift of Life is super easy," said Jennifer. "I have all the tools I need to create and track success when I run donor drives."
In just one year, Jennifer has swabbed 1,087 donors, and a potential donor she recruited has been through confirmatory typing, a test to confirm how closely matched they are to a specific patient. She has been featured in the local news, and made presentations at more than 30 campus organizations.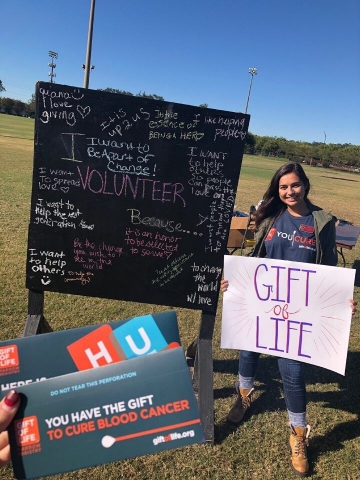 Her efforts recently gained her honors on campus. The FAMU-FSU College of Engineering, where Jennifer majors in Environmental Engineering, named her its Humanitarian of the Year for 2019. At a university-wide banquet on March 26, Jennifer and 13 others representing each of FSU's colleges were honored by university president John Thrasher, who told her "You will change the world, Jennifer, I am sure of it."
To recognize her accomplishments, Jennifer received a plaque with the university seal, individual commendation from President Thrasher, and a contribution of $200 to Gift of Life from the university. She has also been featured in an article on hercampus.com website.
"On the Florida State Campus, the club structure is now set up for Gift of Life, enabling future Campus Ambassadors to step up and hold swabbing drives where both students and faculty can join the registry," said Jennifer. She will spend this year not only swabbing, but mentoring the next generation of Gift of Life ambassadors so the momentum will carry forward after she graduates in 2020.
"Throughout this journey of personal growth, I have realized my compassion and energy drive my leadership and success in motivating others," said Jennifer. "Working with Gift of Life has uniquely expanded my perspective and strengthened my commitment to pursue a career of service, as I personally received the unforgettable generosity of a volunteer in the face of devastation."
Jennifer's passion for Gift of Life's mission is shared by her father, Mike, who now volunteers for Gift of Life as a speaker and in support of others battling blood cancer.
To read Mike's story, click here.