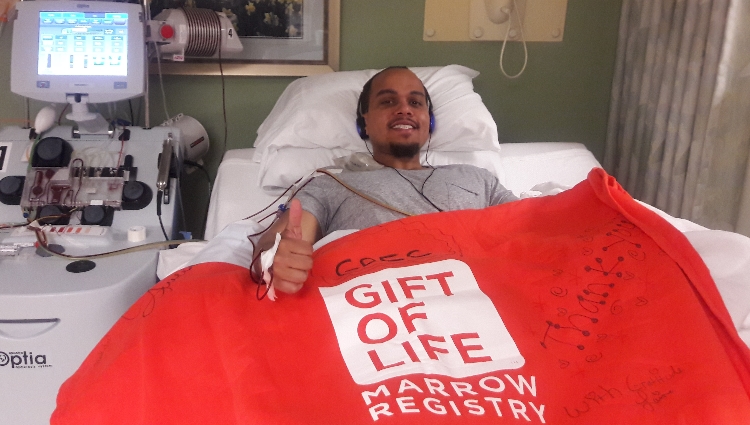 Financial analyst finds the equation favors giving stem cells to boy fighting blood disease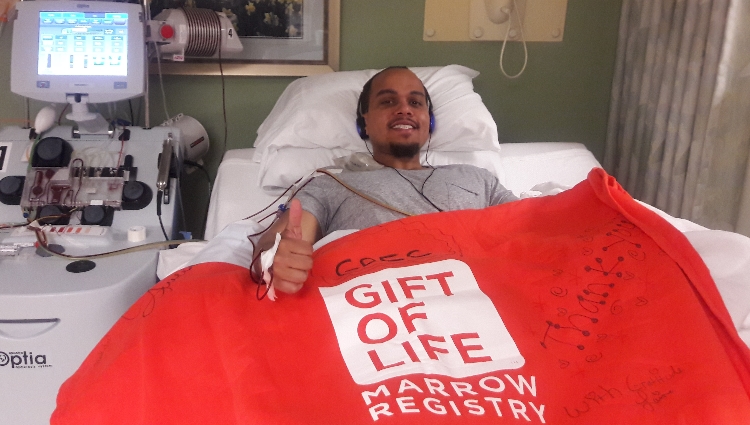 Donor watched a movie and chatted with his dad during the donation process
When Gregory went to Atlantic City for a friend's birthday in June 2012, he never thought it would lead to potentially saving a boy's life. While enjoying the Old School Summer Concert at the city's first annual Multicultural Festival, the University of Maryland student came across a Gift of Life Marrow Registry table, and completely on impulse, decided to swab his cheek and join the registry.
Five years later, in August 2017, Greg's phone, email and text messages all lit up at once: he was a match for a boy suffering from aplastic anemia, and Gift of Life was asking if he would be willing to donate stem cells. Even though he had forgotten about joining the registry, Greg took action immediately, going for a blood test to confirm that he was a match for the patient.
Although he majored in Physical Sciences at UMD, he fell in love with stock trading and now works as a financial advisor at J.P. Morgan in Delaware. Greg's workplace was supportive of him, working around his schedule so he could get to his preliminary physical exam, and then the donation. On his day of donation, he traveled to the collection center accompanied by his father. After his dad learned about the process and the potential to save a life, he was completely supportive of Greg's decision.
---
"The day I donated, my life became more meaningful. If I could donate every month I would do it."
---
In the week leading up to donation, Greg received five injections of Neupogen® to mobilize blood stem cells, normally found in large numbers within the bone marrow, into his circulating blood. During donation, Greg's blood was taken from one arm, processed through an apheresis machine to collect the needed stem cells, then his blood was returned to the other arm. Greg passed the time watching a movie and speaking with his father. His collection finished early due to the high number of stem cells he produced. Stem cells regenerate on their own, so most donors return to work within 24 to 48 hours and feel fully recovered within a few days.
"My procedure was Tuesday and I was completely back to normal by Friday, but I waited a few more days to start playing soccer again," said Greg.
Now he is thinking about his young recipient, and hoping for the best. "I can only wait to hear if it works, and I would love to someday meet my recipient," said Greg. "The day I donated, my life became more meaningful. If I could donate every month I would do it."
In his free time, Gregory enjoys playing soccer and reading.
---
Help us save more lives!
The need to diversify the registry is acute. Because the immune system factors that match patients with donors are inherited, like hair and eye color, the best chance to find a lifesaving match is with someone from the same ancestry.
Only 25% of cancer patients of African ancestry can find a matching donor to save their lives – a shocking 75% of Black patients will not find a match due to the low numbers of volunteer donors in the registry. The situation is equally urgent for patients of multi-ethnic ancestry.
You can help. Please join the registry as a volunteer donor, and you could get the chance to save someone's life.
Learn more about how tissue type matches between patient and donor are found and why your ancestry plays such an important role.