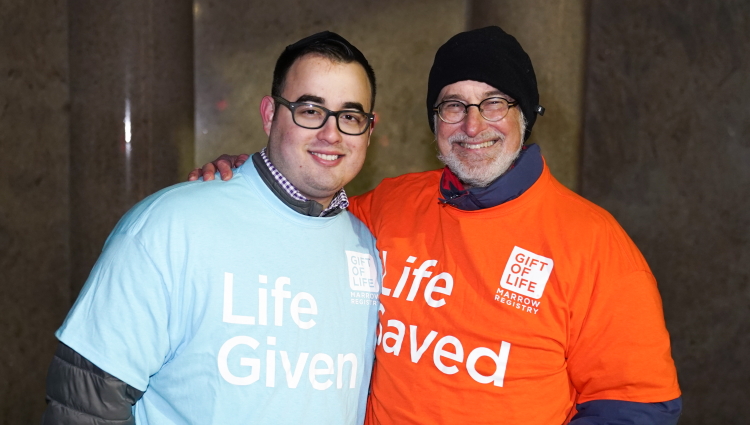 Flushing, N.Y. stem cell donor meets D.C. man whose life he saved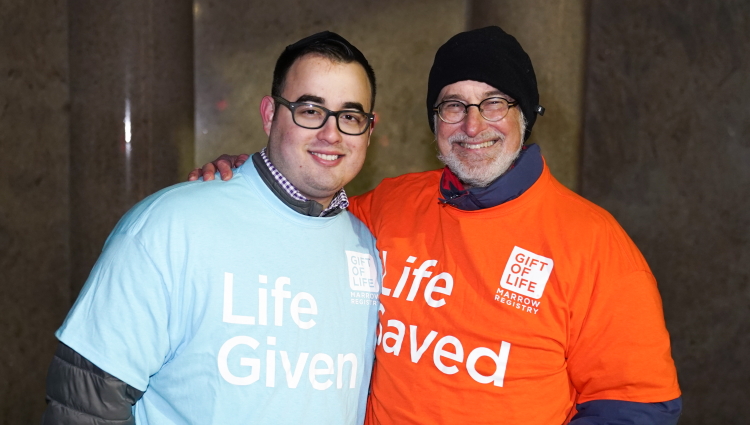 The Chabad of Park Slope Menorah Lighting in Grand Army Plaza is a beloved Brooklyn tradition, with thousands sharing in the excitement of lighting the 30-foot tall menorah. On December 22, 2019, as the crowd enjoyed music, hot latkes, gifts for children, and other festivities, a special announcement was made: please come to the stage to witness a heroic stem cell donor meeting the man whose life he saved!
Gift of Life founder and CEO Jay Feinberg invited cancer survivor Paul Kaplowitz to join him. Paul, 69, is a retired pediatric endocrinologist from Alexandria, Va. He was diagnosed with myelodysplastic syndrome (MDS) in 2014 and his best hope of a cure was a stem cell transplant. He first received a half-matched transplant from his son in 2015, but the transplant was rejected, and it became clear he needed an unrelated donor.
That donor was quickly identified in Gift of Life's registry as Ehud Kadry, a 27-year old resident of Flushing, N.Y. He joined the registry at the Salute to Israel Day parade in 2010. So much time had gone by that when he was called as a match in 2018, he thought it was a phone prank. When he found out he really had the chance to save someone's life, he was incredibly excited.
He donated stem cells in July 2018, and within hours Paul received his transplant. This time the cells quickly began engrafting and building a healthy blood and immune system.
---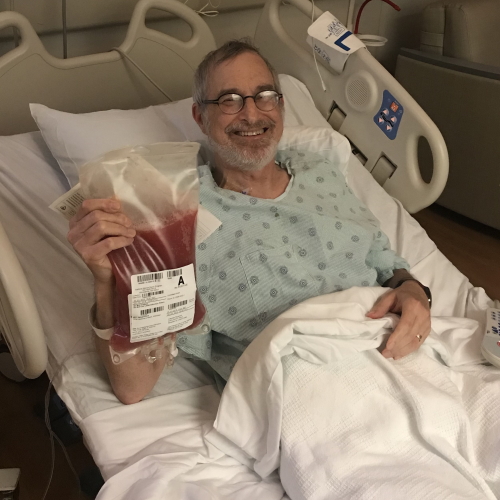 Paul holding up the stem cells after they arrived at his hospital room.
Stem cells are transplanted via an infusion, similar to the way a blood transfusion is given.
The cells naturally find their way into the bones and begin creating new bone marrow, blood cells, and a healthy immune system.
---
"Once I got the cells I began to recover and have been healthy for the past year," said Paul. "I'm enjoying my retirement, traveling with my wife and spending time with my grandchildren."
Ehud, who is married, has two small boys, and works in marketing promotional items, was thrilled when he heard that Paul was recovering and that they would be able to meet each other.
The two men hugged and were clearly happy to make a personal connection now that they share an immune system.
"Donating stem cells is a great thing," said Ehud. "I'm truly gifted to have been given this opportunity – it really makes me think how such a small action can have such a big effect on other people. From the minute my donation was completed I was constantly thinking about whether I would be able to meet my recipient – and here we are!"
After Ehud and Paul were introduced, the giant menorah was lit in celebration of the first night of Hanukkah.
Ehud and his wife Esti spend much of their time chasing after their two young boys. In their time off they enjoy going on family vacations.
Paul is enjoying his retirement by volunteering at a community health clinic, being active with his local Sierra Group chapter, getting out the vote, and walking, biking and learning about trees.