Two transplant recipients who met their donors at Mets game 15 years ago are reunited
Brian Veith (above, center) was 9 years old and Mark DeFrancesco (above, right) only 11 when the two were patients together at the Dana-Farber Cancer Center in Boston in 2003. Mark was battling acute myeloid leukemia and Brian had an inherited immune disease, familial erythrophagocytic lymphohistiocytosis. Both of them were in danger of losing their lives, and both needed bone marrow transplants to survive.
On May 22, 2003, two men arrived at the Cornell Medical Center Hospital in New York City to donate bone marrow. Both were members of the Gift of Life registry and both had joined the registry in spring 2002. Dr. Adam Lish (above, left), an eye surgeon, was Brian's perfect match; Samuel Aronoff, a librarian, was Mark's perfect match. Their bone marrow was collected and sent by courier to Dana-Farber.
The two boys received their transplants, went home from the hospital, and a year later it was time to meet their donors. Gift of Life organized a ceremony with the New York Mets at Shea Stadium, an occasion that started an incredible partnership between the two organizations that continues today. To read the story from 2004, click here.
To mark the 15th anniversary of that event, Gift of Life and the Mets invited all four back to the stadium to celebrate. Although Marc's donor, Samuel Aronoff, was not able to be there, it was a happy reunion.
Sporting Mets team shirts and Gift of Life's "Life Given/Life Saved" turquoise and orange t-shirts, Dr. Lish, Brian and Mark all seemed humbled and emotional by the chance to reunite.
---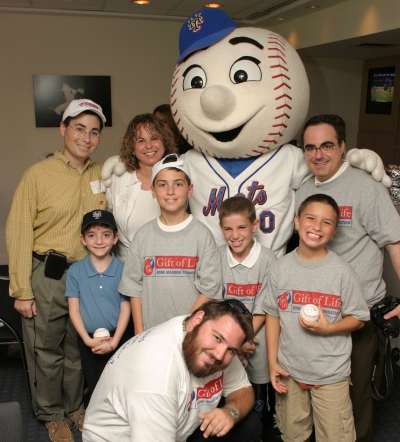 Dr. Lish and Brian (R) with Mark and his donor Samuel (C) along with "Mr. Met", Gift of Life founder and CEO Jay Feinberg (L) and family members at their first meeting in 2004.
---
"We talk about the transplant being a gift for the person who needs help, but when you are the only person who can help someone, that's a gift to you," said Dr. Lish. "I go to work every day and do eye surgeries, but if I don't show up some other eye doctor will take care of it. For Brian, I was the only person who could give him bone marrow. That was a tremendous gift for me and my family."
Dr. Lish also said that his children have been actively involved in donor drives and that Gift of Life has served as a touchstone for his family in teaching them the importance of giving to others.
Brian said he does not recall much about having cancer, but added, "Just having a friend there who relates to you and goes through your same experience – Mark was probably the biggest reason I got through it."
Mark agreed, and added that for two kids who loved baseball, it was incredibly special for both of them to meet their donors at a baseball game. Like Dr. Lish's family, Mark remains involved with Gift of Life. "Recently I've done two swabbing drives, and at the last one I swabbed a 150 people in three hours," he said. "I can never give back what Gift of Life did for me, so any little thing I can do counts."
Gift of Life will honor the New York Mets on September 17, 2019 at our annual gala, One Huge Night. Thank you for helping spread awareness of our mission to save lives.
---
For a June 2019 update on Mark and his donor Samuel from the New Jersey Jewish News, click here.