The annual One Huge Night Gala in Los Angeles on May 4, 2023 was a heartwarming and uplifting event held on an outdoor patio at the SLS Beverly Hills. The evening featured the introduction of a leukemia survivor and her life saving donor, presentation of the prestigious Steven Bochco Award in memory of the famed director, as well as the Community Impact Award and Corporate Partner Award presented to Gift of Life supporters.
The night kicked off with the first in person introduction of Andrew Scott and Aileen McNearney, the donor/recipient pair who met for the first time at the 2022 LA Gala via Zoom. The pair was thrilled to finally be meeting face-to-face and excited to start the evening's program.
Leukemia survivor meets life-saving blood stem cell donor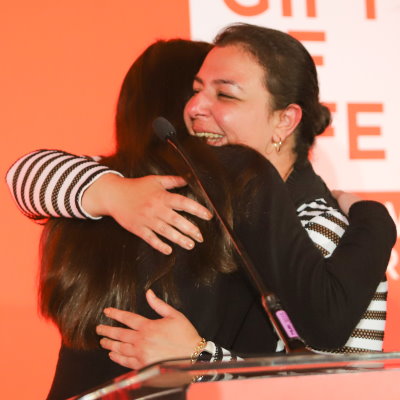 Anahita Yazdgerdi, 39, of Lombard, Ill., was diagnosed with acute myeloid leukemia (AML) after experiencing the symptoms of headache, nausea, and vomiting. While frightened by the diagnosis, Anahita remained hopeful. She was astonished that a donor was found only a week into the search of the registry.
Her match was Rachel Barron, 22, of San Diego, Calif. Rachel joined Gift of Life's registry while on her Birthright Israel trip in 2018. She decided to sign up in order to have the chance to save someone's life.
"I was excited and emotional when I got the news I was a match," said Rachel. "I knew I would go through with the donation to help save my recipient's life. I knew what I had to do as soon as I got the call."
The pair were introduced on stage by comedian and actor Elon Gold. Rachel and Anahita shared an emotional hug and shared a few words with each other and the attendees.
"I am so appreciative I cannot find the words," said Anahita. "It is very emotional – I was reborn. I cannot thank her enough, and am grateful for the technology that makes it possible for a total stranger to give me this gift."
Steven Bochco Award presented to bone marrow donor Evan Dolgow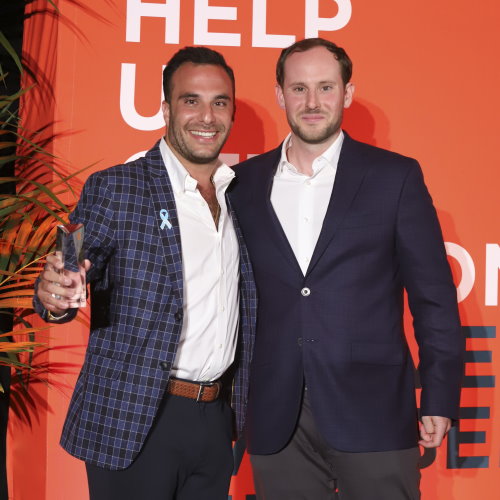 Gift of Life and the family of famed television producer and writer, Steven Bochco z"l, present the Steven Bochco Award annually to a Gift of Life volunteer, donor, or recipient who has creatively used their vision, innovation and personal story to educate the public about the need for donors to join the registry and further Gift of Life's mission.
Sean Flanagan (above right), Hollywood director and stepson of Steven Bochco z"l, took the stage to announce this year's award winner. After talking about the life, creative works and enduring influence on entertainment of his stepfather, he presented Evan Dolgow with the award. After swabbing in 2015 and donating bone marrow in 2021, Evan went above and beyond for Gift of Life. He currently co-chairs the Young Professionals Committee's Celebrating Life New York City event and has partnered with marrow donor and longtime volunteer Jared Stein to establish the Young Professionals Speakers Series.
Lia Mantel Krief honored with Community Impact Award
Gift of Life honored Lia Mantel Krief with the Community Impact Award, presented to her in recognition of her instrumental involvement in the Hope4Adam campaign. The worldwide search to find a donor for Lia's husband, Adam Krief z"l, motivated 60,000 donors to join the registry in the hopes of saving his life and other patients like him. The Hope4Adam campaign inspired volunteers around the world, and donors tested on his behalf continue to save lives: to date, 26 marrow transplants have been completed.
Lia is an incredibly strong, dedicated and selfless woman who continues to help others every single day. She is relentless in her passion for educating others about the importance of becoming a donor and supporting Gift of Life, setting an example for her children along the way.
CEO of Art of Tea accepted Corporate Partner Award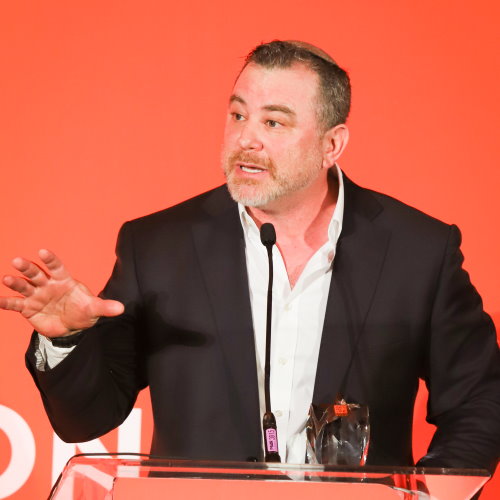 Gift of Life's Corporate Partner Award is presented to organizations that have made a significant impact on Gift of Life's mission through direct support, and promoting education and awareness. The award was presented to Steve Schwartz the Founder and CEO of Art of Tea, and a best-selling author and Master Tea Blender.
Since 2017, Art of Tea has donated five percent of its first quarter sales of matcha tea to Gift of Life, through its Matcha Matches Campaign. These annual contributions support Gift of Life's core mission to grow the registry and has resulted in many donor matches to date.
Musical entertainment provided by Nick Marzock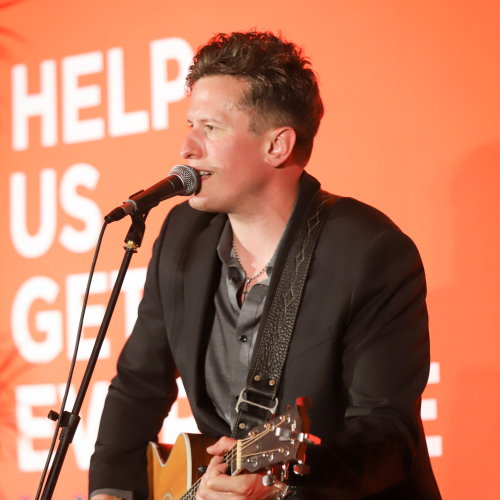 The gala was closed out with a special musical performance by Nick Marzock. He is an accomplished composer and writer for television and film, having recorded, produced, and engineered features and scores for major productions. He has recorded songs with legendary producer Nile Rodgers, opened for Sara Bareilles, Andy Grammar, Flo Rida, STYX, and many more.
---
Thank you to everyone who attended One Huge Night Los Angeles. We deeply appreciate your support for our mission: to ensure that every person in need of a blood stem cell or marrow donor, can find one at the time they are needed.