Jeffrey, who donated stem cells in 2005, accompanied daughter Abby as she donated stem cells to a stranger battling leukemia.
Abby was a freshman at Tulane University in 2014 when she and her friends saw a Gift of Life recruiting table set up by Hillel and decided to join the registry. Abby had a personal reason for wanting to be on the registry: when she was a child her grandfather was diagnosed with leukemia, and both her parents joined Gift of Life in the hopes of being his donor. Although neither of them was a match for him, her father, Jeffrey, was called in 2005 to donate stem cells to a stranger diagnosed with leukemia.
Ten-year-old Abby and her siblings visited their dad during his donation, and she saw how important it was to him to help someone else. That impression stayed with her, so she was happy for the chance to join the registry herself.
---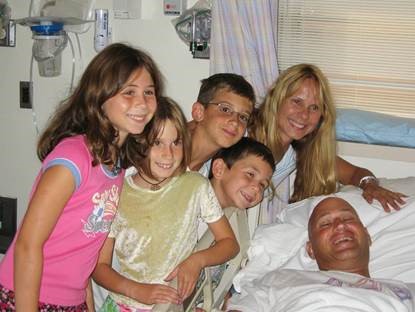 (L-R) Abby, sister Tali, brothers Danny and Aaron, and mom Leisha Self with dad Jeffrey during his stem cell donation in 2005.​
---
Fast forward to March, 2019: Abby's phone started ringing, and the moment she saw that the number was from Boca Raton, Fla., she knew what the call was about. "I was so surprised I couldn't answer fast enough and it went to voice mail," said Abby. "I immediately went to Gift of Life's website and read the article You got the call, and the text, and the email… You weren't kidding! My phone kept going off as I got another voice mail and a text message. When I called my dad, which was within ten minutes, he said 'Have you heard from Gift of Life? They called for you, you might be a match!'"
Abby quickly went from being surprised that she was a match to excitement for the chance to save someone's life, and had no question that she would donate. The person in need was a 58-year-old man diagnosed with Acute Myeloid Leukemia, which inhibited his ability to form functioning blood cells. A stem cell transplant would give him new, healthy bone marrow that could create normal cells.
Her employer, the Library of Congress, has a process in place for employees who are donating for transplants to take time off. On her day of donation, her dad went with her and they were met by Gift of Life's collection coordinator, who stayed with them the entire time to make sure they had everything they needed.
"Dad and I spent most of my collection chatting, and he told a lot of dad jokes," said Abby. "The whole experience was great." Her mom Leisha took care of her the next day, and she felt recovered very quickly.
Abby would also like others to consider joining the registry. "Gift of Life makes it so easy to be a donor, there is not much to do but show up," said Abby. "You are completely taken care of and it feels so worthwhile!"
Abby, 23, is a legislative information specialist at the Library of Congress, and in her free time enjoys reading and traveling. Thank you Abby, Jeffrey and family – we deeply appreciate your commitment to saving lives.