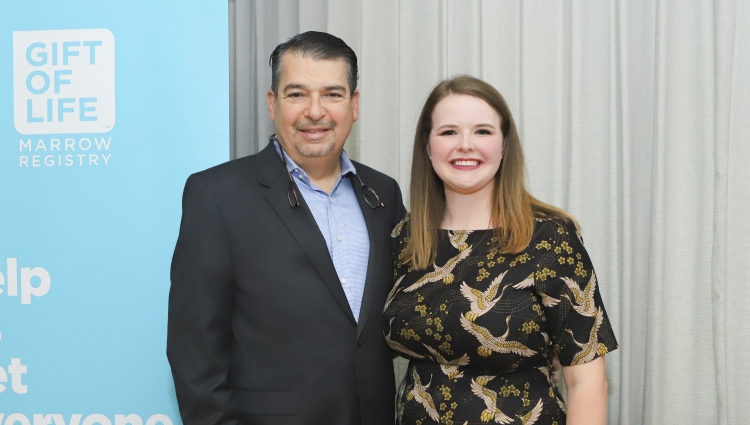 Marrow donor and recipient share a dedication to teaching and developing youth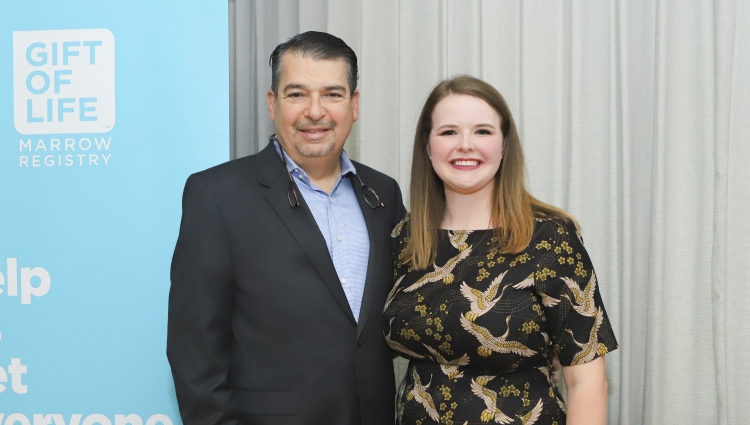 Michael Miller was overwhelmed with emotion as he greeted his lifesaving bone marrow donor Christina Wiley for the first time last month. The two now share an incredible bond thanks to Christina's willingness to help a complete stranger battling a deadly blood disease. Gift of Life Board Member Sam Rosen introduced them at a private event in Los Angeles.
Michael, 54, resides with his wife Julie in Pleasanton, Calif. in San Francisco's East Bay. He works in marketing technology, is a Scoutmaster with the Boy Scouts, and they are the parents of two grown children and a teen. He is also the courageous survivor of acute aplastic anemia.
In September 2014, Michael went in for blood work to learn why his heart rate was spiking and he felt lightheaded. His diagnosis was acute aplastic anemia, a malfunction of the bone marrow, and after several treatments failed, his last option for survival was a bone marrow transplant.
Doctors found Michael's matching donor, Christina, in Gift of Life's registry, and he was able to receive a lifesaving infusion of her bone marrow in June, 2018. Christina, 24, the Executive Director of Florida YMCA Youth in Government, is from Lakeland, Fla. She joined the registry while an undergraduate at University of Florida. "I had heard of bone marrow donation, but thought it was like registering for organ donation," she said. The process actually uses living donors, who give a small amount of bone marrow or stem cells through an outpatient procedure.
Christina went on to graduate school at Harvard University, and it was during her graduation ceremony that she received the call that she was a match for Michael. "I looked down to see the 561 area code and knew what it was," she said. "After walking across the stage to receive my Master's degree and take a moment to hug family and friends, I called Gift of Life back to learn I was a match!"
When they met they were amazed to learn that they both share a dedication to developing and educating young people. "Civic education is the greatest passion of my life and the happiest coincidence in meeting Michael is that we both care deeply about youth development," said Christina. "Scoutmasters build engaged citizens who volunteer, vote, and advocate for their communities. These are the skills and habits I work to help my students build, too."
She also had words to share with Michael. "Your strength and bravery in the face of adversity inspire me, and I hope the story we now share will inspire others," said Christina.
Michael said, "Life is a team sport, as was proven over and over again during this five year journey. Doctors and nurses, Gift of Life and my donor Christina all joined forces to save my life. I'm very grateful."
Michael enjoys hiking, camping, skiing, and other outdoor sports, and is a dedicated Scoutmaster.
Christina is now the Executive Director of Florida YMCA Youth in Government and in her free time loves to travel. Read about Christina's experience being a donor.