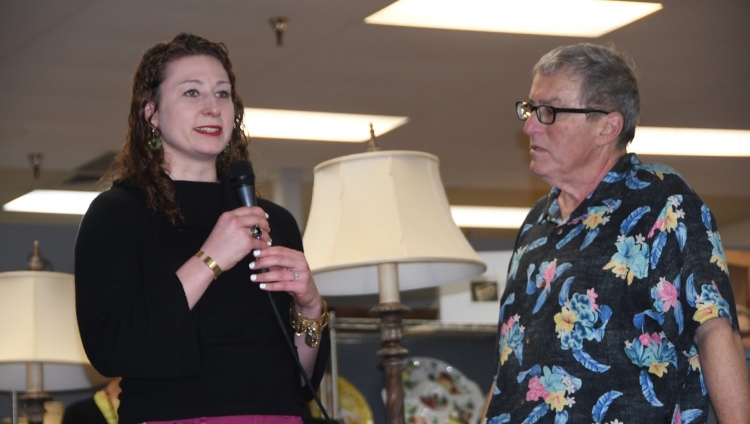 Marrow donor travels 2,400 miles to meet man whose life she saved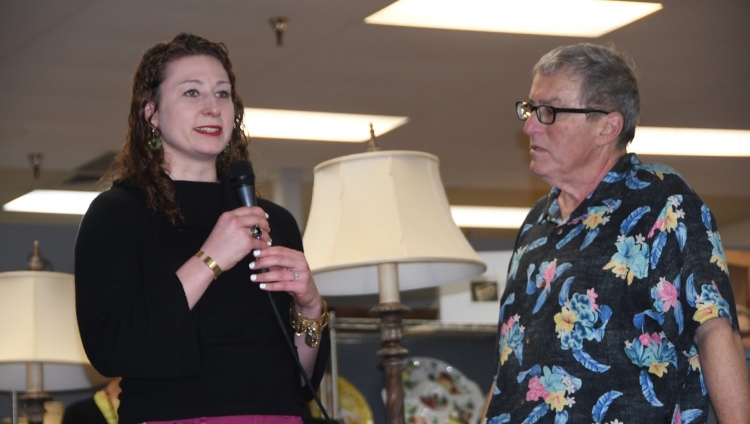 Marrow donor Liza Abrams (l) speaks to family and friends of her transplant recipient Jack Heims (r).
One thing Houstonian Liza Abrams never expected when she joined the Gift of Life Marrow Registry was to gain 120 new friends in Portland, Oregon. But, that's exactly what she got when she arrived in the City of Roses with her mother Amy and fiancé Garrick in March 2019 to meet the stranger whose life she saved.
Liza, 26, donated bone marrow in January 2018 to a 69-year-old man battling acute myelogenous leukemia. She joined the registry three years earlier at a drive in Washington, D.C. during an internship at the Religious Action Center. Two years later, while serving as the Director of Undergraduate Student Engagement at Hillel at the University of Houston, she got that miraculous call from Gift of Life – you're a match for a patient in need. She donated a few months later, but because transplants in the United States must remain anonymous for the first year, she knew only her recipient's age, gender and medical diagnosis. Donors and recipients can only exchange contact information and meet if both parties agree.
In early 2019, Liza submitted the paperwork giving permission to release her contact information to her recipient, then became busy finishing her Master of Higher Education degree and applying for jobs. Her phone rang one day and a man said he was her recipient, Jack Heims. Liza was speechless.
Jack, now retired, had served at the Veterans Administration and on the Oregon governor's task force on veterans. In 2010, he learned that Oregon was one of only six states lacking a World War II memorial. Jack formed the Oregon World War II Foundation, helping to raise $1.2 million to build the memorial, which was dedicated in 2014.
"Oregon World War II Memorial" by Wayne Hsieh is licensed under CC-BY-NC 2.0
During their conversations, Liza and Jack discovered a remarkable coincidence: Liza's mother is friends with Jack's second cousin, and the two women had traveled together 40 years ago as participants in Year Course in Israel.
Jack invited Liza to bring Amy and Garrick and visit him in Portland so they could meet face-to-face. It turned out to be an incredible few days. Jack and his wife Phyllis gave them a whirlwind taste of life on the Oregon coast, with meals on the riverfront, a trip up the Columbia River Gorge to see the Multnomah Falls and a visit to the beach to see Haystack Rock and go clamming.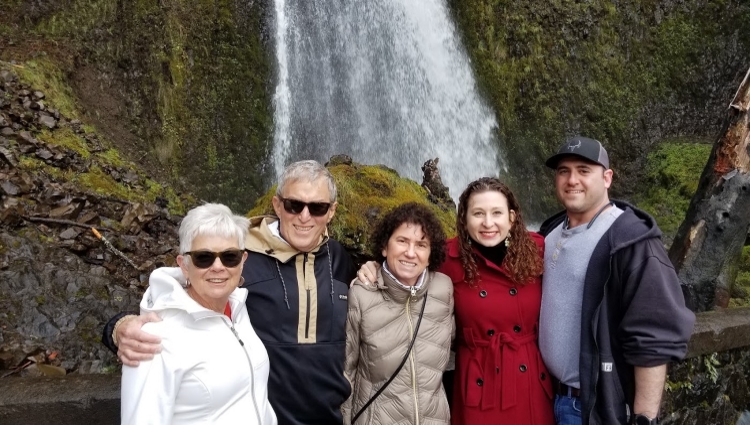 (L-R) Phyllis Heims, transplant survivor Jack Heims, Amy Abrams, marrow donor Liza Abrams, Garrick Hirsch.
Then the fun began! Jack rented a warehouse and invited 120 of his closest friends and family to a party to meet Liza. After introducing her to the crowd, Jack assured them that his health is good – during his treatment he did not experience the usual hurdles expected after transplant – and he has more appreciation of life now.
"I started talking, but was very choked up. Everyone was coming up to me and saying, 'Thank you, thank you' and I was so emotional all I could say was 'You're welcome,'" said Liza.
When she and her family returned home at the end of the weekend, Jack and Phyllis made sure they took a fresh bucket of clams with them.
Liza plans to do more volunteering for Gift of Life by holding donor recruitment drives at the blood center where she gives platelets 24 times each year.
"Donating marrow was one of the most powerful experiences in my life," said Liza. "If you have the opportunity, do it."
Liza has completed her master's degree and is searching for her next position in higher education at a college or university in Houston. Jack and Phyllis plan to visit Liza and Garrick for their wedding in spring 2020.