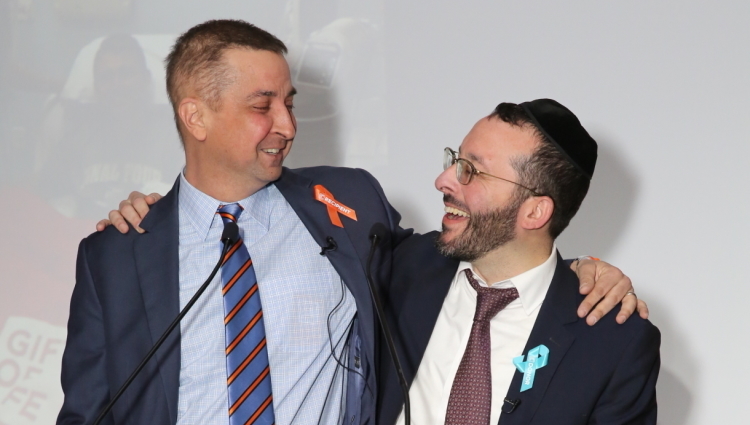 N.J. bone marrow donor meets man whose life he saved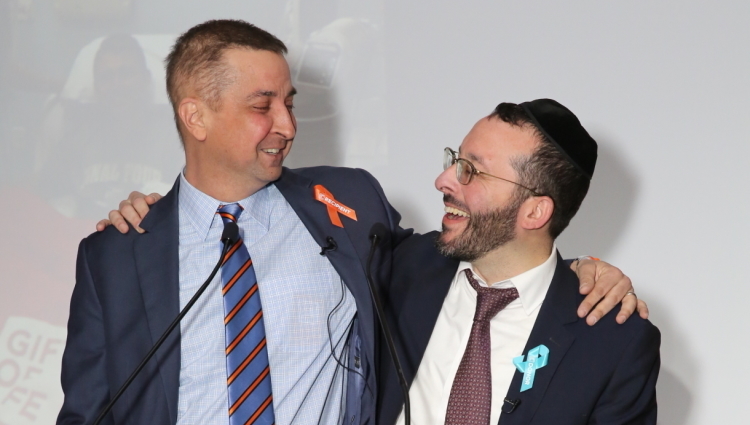 More than 300 people attended the 5th annual Celebrating Life New York City at the Edison Ballroom on February 20, 2020. The event honors Gift of Life Marrow Registry's outstanding supporters and recognizes blood stem cell and bone marrow donors and recipients.
The highlight of Celebrating Life was the moment when leukemia survivor Scott Novorr met his lifesaving bone marrow donor, Binyomin Gewirtz. The two men stood with their arms around each other to say a few words to attendees, clearly delighted to finally meet each other. They were introduced by last year's Celebrating Life honoree, Izzy Sakhaie.
Although they now share the same immune system and blood type, the two men had never met, as regulations prevent donors and recipients from being identified for the first year after transplant.
Izzy told attendees that Scott, 48, had never been sick a day in his life, but after a routine physical in 2014 showed a high white blood cell count, he was diagnosed with Chronic Myelogenous Leukemia. Scott and his wife Jennifer were shocked and overwhelmed, and had no idea how they would break the news to their four children.
The Novorrs were fortunate that the University of Kansas Medical Center was only a half hour away from their home in Overland Park. His doctors recommended a bone marrow transplant, but none of Scott's family members were a match, so a search for an unrelated donor was started in the worldwide registry. Scott has a rare tissue type that made this search especially complex. After several months, Binyomin was identified in Gift of Life's registry as being the best match.
"I remember the day I received the call that we had a close match, and that he was willing to donate," said Scott. "I immediately called my wife and almost broke down in tears. It's the ultimate selfless act."
Binyomin, 40, is an event and campaign coordinator who is also pursuing a degree in religious studies. He joined the registry in 2003 at a drive in Lakewood, N.J., where he and his wife Tzippy reside with their six children. He previously donated stem cells in 2015 to another patient, and he feels very privileged and lucky to have been called upon as a donor again.
"One of the blessings in my life is having had the opportunity to donate bone marrow and to help save Scott's life," said Binyomin.
Binyomin and Scott are looking forward to learning more about each other, and developing a new friendship between their two families, which combined total ten children.
Gift of Life thanks Northwell Health and Finn Partners for sponsoring Celebrating Life New York City.
---
Photo Gallery
To view the event photo gallery, click here.
---
To join one of our Young Professional Committees and help organize events, fundraise, and network with your peers, please contact Sydney Stupp, sstupp@giftoflife.org.