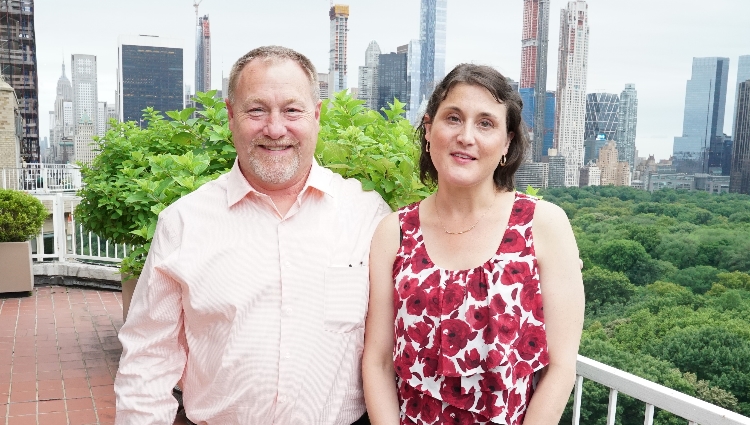 Stem cell transplant across border brings Canadian and American together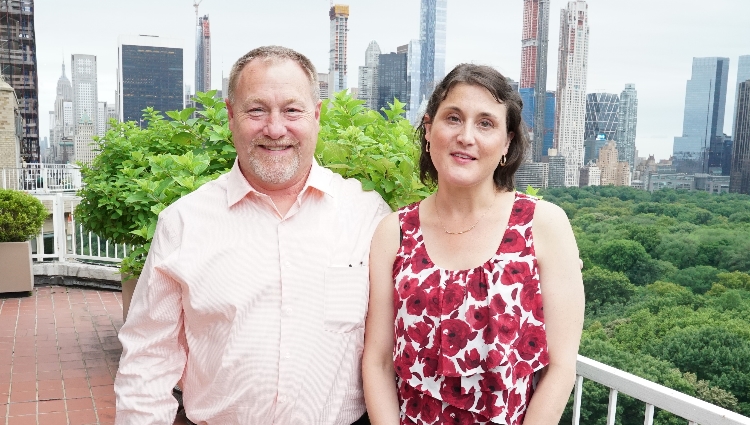 The Manhattan apartment where Gift of Life's Cocktails and Conversation event was held on June 27 has an incredible view over Central Park, but all eyes in the room were on cancer survivor Amanda Adams. The 40-year-old librarian from North Bay, Ontario, was here to be introduced to the man who saved her from leukemia through a stem cell transplant.
As the emotional moment approached, Gift of Life benefactor and event host Steve Prince told her story to an intimate group of guests.
Amanda was diagnosed with chronic lymphocytic leukemia in 2009, and after chemotherapy helped her into remission, she returned to her work as a librarian. But in March 2016, the leukemia came back and her doctors said the best hope of a cure was through a stem cell transplant.
The first place to search was within her family, but only 30% of patients find a match among siblings or family members. Amanda, like most, did not have a match among her three sisters, so the search moved to the international bone marrow registry, managed by the World Marrow Donor Association (WMDA).
Fortunately, her perfect matching donor was already a member of the Gift of Life Marrow Registry. As a public registry in the United States that is affiliated with the WMDA, it provides support to transplant centers around the world, including Canada.
Chris Read and his wife, Amy, residents of Franklin, N.H., joined Gift of Life while they were visiting the annual New Hampshire Camping and RV Show in March, 2012. Read, a 55-year-old senior project manager, feels strongly about being a donor; his son, now 24, was diagnosed with diabetes at age 3 and may someday need a kidney transplant. Joining the registry seemed to Chris like a great chance to help others.
"I felt like I won the lottery when I got the call that I would be able to donate stem cells," said Chris. "Helping someone in need is something we all want to do, but to potentially save a life is unprecedented."
Chris documented his journey to donation day, and made a YouTube video talking about his experience to encourage others to join the registry and become donors. He is a ham radio operator as well, and uses this as a platform to talk about how easy the collection was, which he likens to "donating blood with both arms." During the procedure, blood flows to the apheresis machine from one arm, the cells needed for transplant are separated out, and the remaining blood is returned to the other arm. Chris donated in the United States, and his stem cells were immediately hand carried by a courier to the transplant center at The Ottawa Hospital.
Amanda had been preparing for the transplant for weeks with intensive chemotherapy. A patient's system must be cleared of both diseased cells and live bone marrow, so that the new stem cells can migrate into the bones and begin the work of producing new blood cells and a healthy immune system free of disease. Amanda's parents, sisters and friends took care of things at home while she received the transplant and gave her plenty of support during her three-month hospital stay.
Transplants are conducted anonymously, and are a one-to-one donation as the donor and recipient must share matching human leukocyte antigens (HLA) for the process to work. In Canada and the United States, donors and recipients may learn each other's identities after the first year and meet, if both agree.
Finally, that moment of meeting had arrived. Steven Prince invited Chris to come forward and greet Amanda, and the first of many very emotional hugs was shared.
"From the day I donated we thought about her and wondered how it was going," said Chris. "Then on December 14, I got an update call – the process worked, she was on the path of health; she was going to be okay. I called Amy but was so emotional I couldn't even speak … Here's a perfect stranger I know nothing about and I just received the best Christmas present ever – the news that she was doing well."
As the two rejoiced upon their introduction, Chris handed Amanda a package. He had a necklace specially made for her with the word SURVIVOR spelled out in Morse code, the perfect gift from a ham radio operator.
Chris and Amy have already made plans to visit Amanda and her family in Canada. Amanda has returned to school and is pursuing her graduate degree in history.