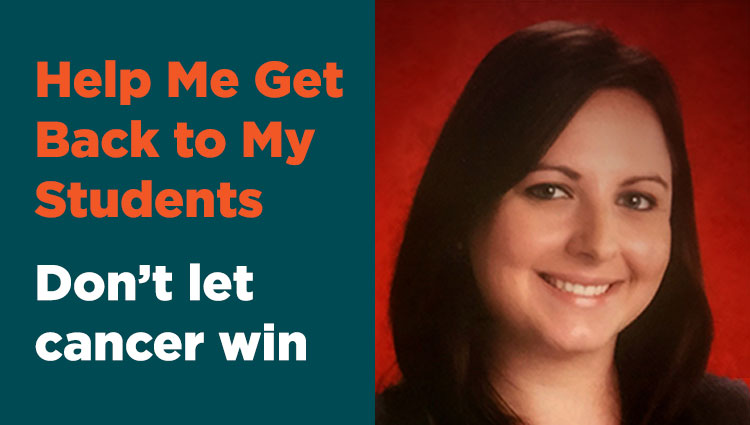 First grade teacher battling leukemia urgently needs marrow transplant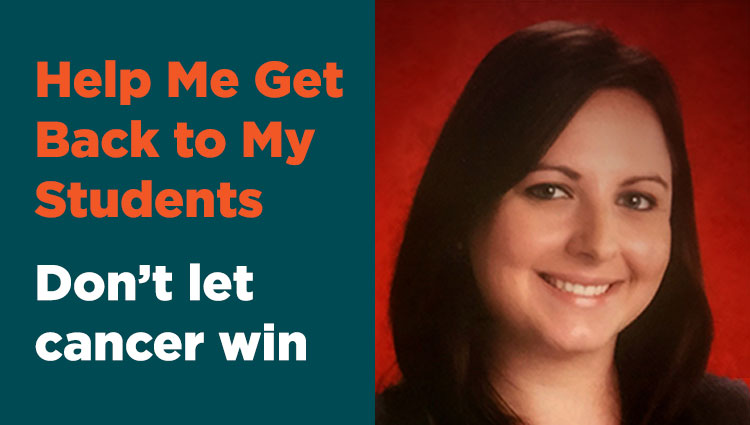 Carolyn Inzirillo needs our help.
When the 34-year-old first grade teacher from Orlando was first diagnosed with leukemia in 2014, her world was turned upside down. For two years she was unable to work as she underwent five months of an intense chemotherapy regimen, then multiple surgeries and a year-and-a-half of maintenance chemo treatments.
She battled back and appeared to be winning; however, in February 2018 doctors told her the cancer had returned and now her only hope of a cure is a bone marrow or stem cell transplant.
The need to find a donor for Carolyn is urgent. None of her family members is a match, and there is currently no donor for her in the worldwide registry.
Gift of Life is determined to find her match and we have launched a national recruitment program to hold drives in Florida, New York, and other locations.
All it takes to join the registry is a quick swipe of a cotton swab inside your cheek. With that swab we can find out if you are a match for Carolyn or another patient battling cancer.
Because matching factors are inherited, Carolyn's match is likely to be someone of Italian/Sicilian, Polish or Ukrainian ancestry, or some combination of these.
How can a transplant save someone with cancer?
The goal of the transplant is to replace the patient's immune system with a new system completely free of disease. The donor and the patient must share matching immune system factors called Human Leukocyte Antigens (HLA) for the transplant to work. When donors join the registry, the HLA are tested to determine if they are a match for a patient.
When a match is found, the needed stem cells can be collected in one of two ways, either from the bone marrow or from the circulating blood. Today about 80% of donations are peripheral blood stem cells, collected in a process similar to donating platelets. Bone marrow is collected in about 20% of cases, usually for children, during an outpatient procedure lasting about 1-1/2 hours. Donors typically return to work within a day or two. The donor's stem cells return to normal levels naturally within a few weeks.
You can help now
Join the registry: If you are Italian, Sicilian, Polish, or Ukranian, or some combination of any of these, please swab your cheek and join the registry – YOU may be Carolyn's perfect match! Order your swab kit at gol.org/Cure4Carolyn
Hold a donor drive: We need people to help us register new donors for testing. It's easy and we'll train you and send you all the supplies you need. Email Russell Lowe, Community Engagement Coordinator, to start organizing your drive today, rlowe@giftoflife.org.
Contribute funds: Processing each volunteer donor's swab kit costs $60 to find out if they are a match for Carolyn or another patient in desperate need. You can make a financial contribution on Carolyn's Donor Circle, see below.
Share Carolyn's story: The United States has 3.2 million teachers – and someone out there is Carolyn's lifesaver. While you're visiting Carolyn's donor circle, click on "Share This Donor Circle" (on the right side of the page) to help spread the word.
More about Carolyn…
Carolyn is originally from Flushing, Queens, New York, where her parents worked as nurses. She attended St. Mel's Catholic School in Flushing, then her family moved to Orlando when she was 12. She graduated from the University of Central Florida in 2008 with a bachelor's degree in Elementary Education. She is a first grade teacher in Orlando and has also taught kindergarten and second grade.
"Teaching is my passion, I truly believe this is what I was put on this earth to do," said Carolyn.
While she does receive chemotherapy, this treatment is only buying time. Her best hope now is to find an unrelated donor – and that donor could be you!
Join the registry today and learn if you are a miracle match for Carolyn or another patient in need.