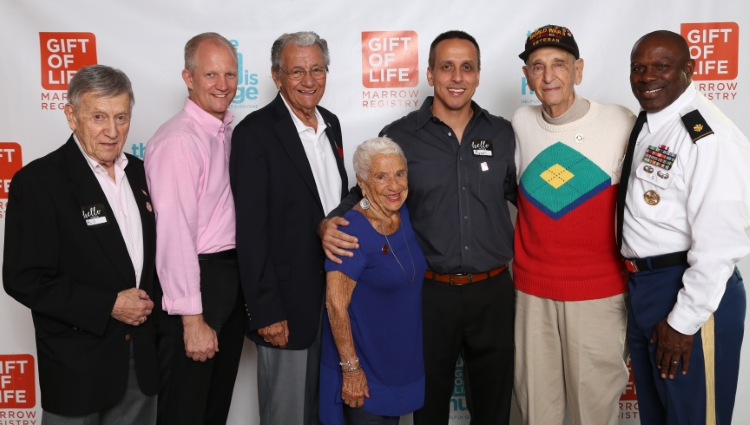 Heroes Recruiting Heroes: WWII Veterans ask for 5,000 new heroes by Pearl Harbor Day 2019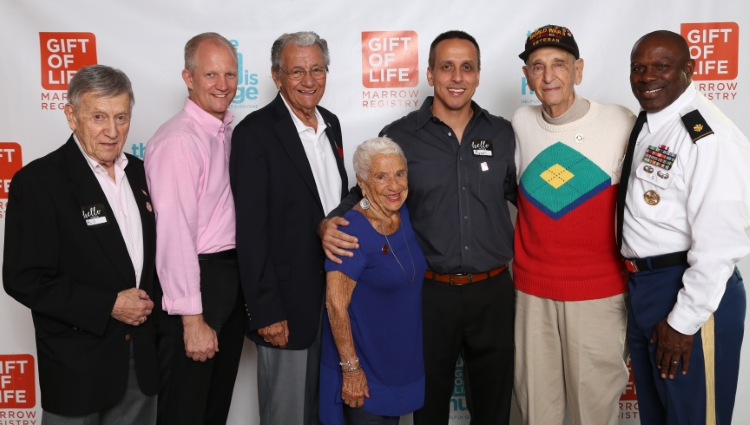 World War II Veterans have joined with veterans of other conflicts and Gift of Life to recruit 5,000 new donors this year. This campaign was initiated by Ryan Paton (third from right), Director of Operations at Honor Flight South Florida. Also pictured are Gulf War veterans and Major Thomas Johnson, Broward County JROTC.
Gift of Life Marrow Registry is partnering with some of the last remaining veterans of World War II to add 5,000 new donors to its stem cell and marrow registry by Pearl Harbor Remembrance Day on December 7, 2019. The Heroes Recruiting Heroes campaign will hold swabbing drives at events, ROTC chapters, military academies and prep schools, and other organizations, supported by a national social media campaign.
Blood diseases including leukemia and lymphoma, sickle cell disease, myelodysplastic disorder (MDS) and inherited immune disorders can be cured with the transplant of a small amount of stem cells or bone marrow from a living donor. About 70,000 Americans are diagnosed with blood cancer each year, but only 30 percent of those who could be cured by a transplant can find a matching donor within their own family. The best chance of a cure is to find an unrelated donor in the marrow registry.
This partnership was founded when Ryan Paton reached out to Gift of Life. In 2018, his father Doug was diagnosed with myelodysplastic syndrome (MDS), a blood cancer, and doctors told him he needed a stem cell transplant.
Both Doug and Ryan donated blood and platelets multiple times each year throughout their lives, and Ryan had even joined the marrow registry nine years ago. Together, they have been one of the biggest father and son platelet donor pairs in South Florida, donating their health to others for a combined 40 years.
Ryan did not initially relate the importance of being on the registry to being a cure for someone until he personally experienced what this battle is all about through his father's fight with cancer. But, when Ryan learned that thousands of Americans perish each year because they cannot find a match either in their family or in the registry, he knew he needed to do something to help.
The WWII veterans Ryan works with in his role as Honor Flight South Florida's Director of Operations knew about his dad's stem cell transplant procedure, and when asked they immediately agreed to join in this mission. Ryan called Gift of Life and with one phone call, the Heroes Recruiting Heroes campaign was created.
"Millions of healthy people hold the cure for blood cancer within them, but have no idea that they could easily save someone's life," said Ryan. "Sick people are fighting the battle of their lives and waiting for healthy people to step up and give them the ammunition they need to win their battle. Make no mistake, these warriors fighting cancer and blood diseases are in the ultimate fight, and it's up to healthy people to help them win the battle by donating their gift of health."
Ryan and his eight friends – these heroic World War II veterans – have set a goal: they want to see 5,000 new donors join the registry by December 7, 2019, Pearl Harbor Remembrance Day. This year marks the 78th anniversary of the attack that took the lives of 2,403 U.S. citizens, and initiated American participation in World War II. 2019 also marks the 75th Anniversary of D-Day on June 6, 1944, when allied forces landed on the beaches of Normandy, ultimately leading to the defeat of Germany and the end of the war in Europe.
Sixteen million Americans, many of them young people just graduating from high school, served in the Armed Services during World War II. They each did their part to save the world, and now they urge us to do our part to help others.
­­­­­If you are 18 to 35 years old and in good health, order your free swab kit by visiting the Heroes Recruiting Heroes page and click on the blue box "Get Swabbed".
Those 36 and older are encouraged to sponsor the lab processing of swab kits. Every kit costs $60 to send to the lab for tissue typing to add the donor to the registry. Visit the Heroes Recruiting Heroes page and click on the orange box "Give to My Circle".
You can visit th page at any time to see the number of new donors added to the registry, how many patients have found matches, and how many lifesaving transplants have been completed.
Can I run a drive? Yes!
Volunteers are needed to hold donor recruitment drives as part of this national effort. Help us achieve the goal of 5,000 new stem cell and marrow donors by December 7, 2019! All materials and training provided at no cost. Please contact our Community Engagement Manager Izu Nnakenyi at innakenyi@giftoflife.org to get started today!
How else can you help cure blood cancer?
You can sponsor the lab processing of a kit for a new donor who joins the registry as part of this campaign. Each new donor's kit costs $60 to test and add to the registry. Click here to sponsor a kit for Heroes Recruiting Heroes.