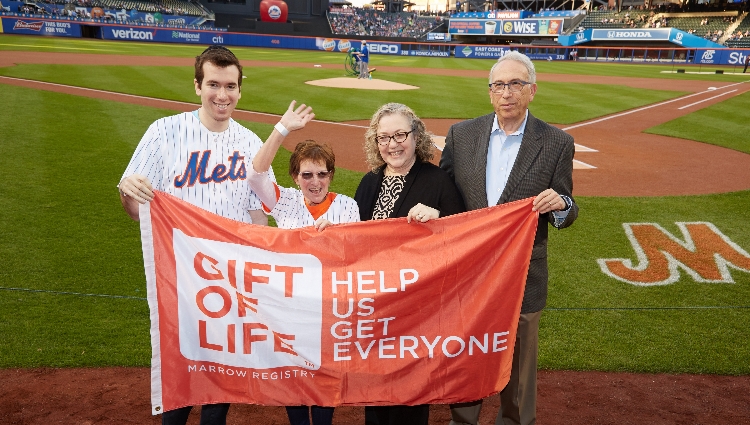 Leukemia survivor meets stem cell donor at Citi Field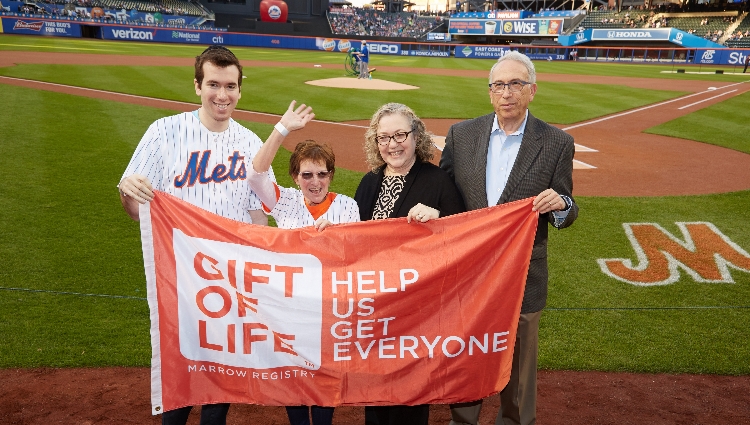 Shortly before the New York Mets took the field against the Atlanta Braves on May 1, 2018, an emotional meeting happened between stem cell transplant recipient JoAnn Cotter of Fairport, N.Y. and her donor, Michael Broker of Brooklyn, N.Y. Donors and recipients must remain anonymous for the first year after transplant, so JoAnn and Michael were strangers even though they now share the same immune system and blood type.
The two were introduced in a private suite at Citi Field by Howard and Tova Weiser, dedicated supporters of Gift of Life's mission whose donor circle sponsored the lab processing of Michael's swab kit when he joined the registry.
Michael joined Gift of Life in 2012 while a student at Brooklyn College. He is about to become a medical doctor, and begins his first year of residency in Internal Medicine in July, 2018. Fortunately for JoAnn, he was not only her perfect match, he was already in the registry when she needed a transplant donor.
"I first noticed I was getting bruises out of nowhere, then my gums hurt and I got a bad pain in my back," said JoAnn. "My brother, who is also my doctor, sent me immediately for a blood test, and it was a shock to learn that I had leukemia." Joann, 66, went from working at the hospital as a patient advocate to being a patient herself.
"Many people are looking for donors and there aren't enough of them in the registry for everyone in need," said Michael. "It literally takes one day of your time and you can add years to somebody else's life."
"I feel great – in fact, almost better than when I was younger. Of course! I have Michael's young 27-year-old cells now!" JoAnn said. Her husband, Kevin, thanked Michael as well, saying that Michael is his hero now.
After the introduction, JoAnn, Michael, and the Weisers were recognized on the field during the pre-game ceremonies, as the Mets invited spectators to also join the registry and help save lives.
Gift of Life's partnership with the N.Y. Mets
Gift of Life thanks the Mets for the team's ongoing support of our mission to cure blood cancer.
The N.Y. Mets have been partners with Gift of Life for 14 years. Every May our organizations bring together a marrow transplant recipient and their lifesaving donor at Citi Field baseball park for the first time. These emotional and joyous introductions are highly anticipated by donors and recipients.
If you'd like to get your best chance of saving someone's life, order a swab kit and join the registry. Someday you could get that miraculous phone call from us to say "You're a match, and you can save someone's life!"
The Weiser Family Donor Circle
Gift of Life is grateful to Howard and Tova Weiser, and their family and friends who have been such dedicated supporters since 2011. The Weiser Family Donor Circle was founded after the Weiser's daughter Rivka received a lifesaving transplant. The circle has raised more than $1 million to sponsor new donors, and added over 17,300 donors to the registry resulting in 34 lifesaving transplants, including JoAnn Cotter's.