Gift of Life Chairman Bill Begal with his bride Kira Epstein — just married! Photo: Clay Blackmore
What wedding gift do you give the couple that doesn't need anything? In this case the groom, Bill Begal, Chairman of the Board of Gift of Life Marrow Registry, and his bride, Kira Epstein, decided that in lieu of a wedding registry they would make the marrow registry the centerpiece of their wedding festivities. Their wedding date coincided with International Good Deeds Day, a worldwide day of giving to others. Founded in Israel in 2007, this day of service now attracts 1.5 million participants in 75 countries.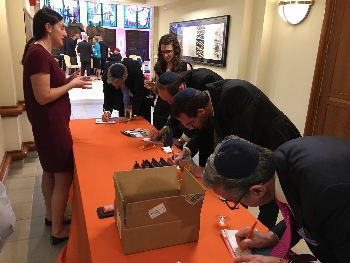 "My fiancé never wanted to receive gifts; we always wanted to do something amazing," said Bill "There is nothing more amazing than saving someone's life. Each of us has the power within us to save someone with blood cancer, but the only way you'll ever get that miraculous chance is by joining the registry so the transplant centers can find you."
Many of the wedding guests were already on the registry, and 34 others opted to take the opportunity to swab their cheeks and join as well. The couple asked friends, family and business acquaintances to donate money to Gift of Life to sponsor the $60 cost of lab testing each swab kit. So far they've received $20,140 (to process 335 kits) for the non-profit, which receives no government funding.
Bill and Kira's decision even attracted the media, with a Washington, D.C. TV news crew arriving to cover the event. What a great way to raise awareness of a cause that is so close to their hearts!
"Looking for a matching donor was like looking for a genetic needle in a haystack," said Gift of Life CEO and transplant recipient, Jay Feinberg. When Jay needed a donor in the early 1990s to cure leukemia, there was no match for him in the registry. Bill actually flew to Russia to locate the Feinberg family's ancestral home and test 500 potential donors in the area. Why go all that way?
"Matches are based on inherited factors from your parents and ancestors, so the best chance of finding a donor is someone of the same ethnicity," explained Jay. "Bill is very passionate about saving lives, even to the point of going halfway around the world to help me. His wedding day is no exception: he wears his passion for Gift of Life on his sleeve."
In spite of the genetic connection, only 30 percent of patients find a donor within their own family; the rest must rely on public registries to find a donor. That means 70 percent of those needing marrow and blood stem cell transplants must rely on the 2 percent of the population that is currently part of the registry. The more donors who register, the more lives can be saved.
Will any of Bill's 330 wedding guests be called upon to save a life? Through the Begal-Epstein Donor Circle, every donor who is sponsored by the funds collected and every donor who swabbed at the wedding are tracked in real time.
"We'll get an email if any of our wedding guests or sponsored donors are called to give bone marrow or peripheral blood stem cells and save someone with blood cancer," said Bill. "For 10 years, 20 years, 30 years and way after I'm gone, amazing things are going to be done."
To visit the Begal-Epstein Family Donor Circle, click here.
---
Doesn't Bill and Kira's generosity sound like a great idea? Gift of Life Marrow Registry can be part of your family event, too. To learn more, click here or call 561-982-2900.