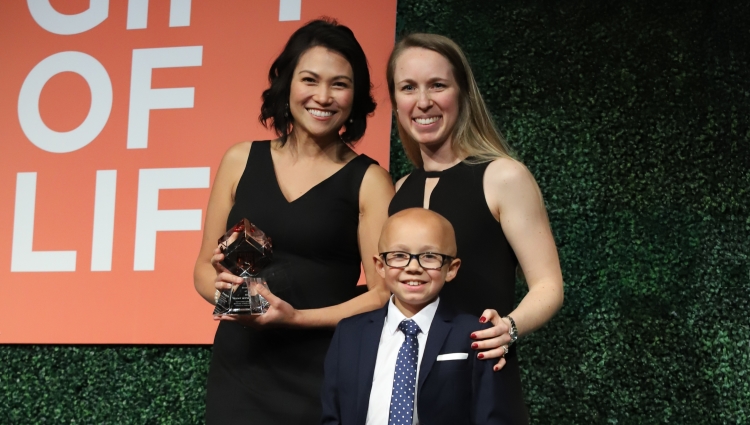 Gift of Life honors McKesson with Corporate Partner Award at Los Angeles Gala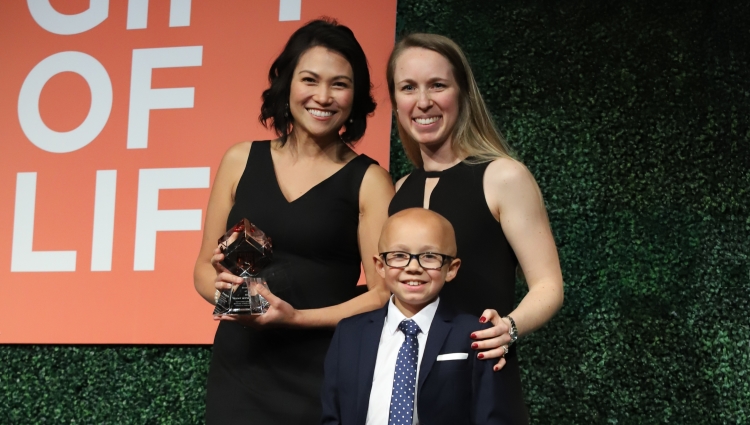 (L-R) President of the McKesson Foundation and Vice President of Corporate Citizenship Christine Lopez accepted the Corporate Partner Award, presented by Gift of Life marrow donor Kayla Pendray and her recipient James Strejc.
At the annual One Huge Night gala in Los Angeles on November 4, 2019, Gift of Life marrow donor Kayla Pendray and her recipient James Strejc presented the Corporate Partner Award to McKesson. When Kayla saved James's life with a bone marrow transplant in 2014, she inspired her father John Hammergren, then Chairman and CEO of McKesson, to support Gift of Life's mission.
President of the McKesson Foundation and Vice President of Corporate Citizenship Christine Lopez accepted the award on behalf of McKesson.
"As a foundation there are two ways we can help the communities we serve – the transactional and the transformational," said Christine. "It was through Kayla's selfless act that we formed our partnership with Gift of Life, and it's been amazing the transformations that are made possible in patients' lives."
McKesson also sponsors the Steps for Life 5k of Boston, among other efforts it undertakes on behalf of Gift of Life.
Steven Bochco Award presented to donor Noah Starr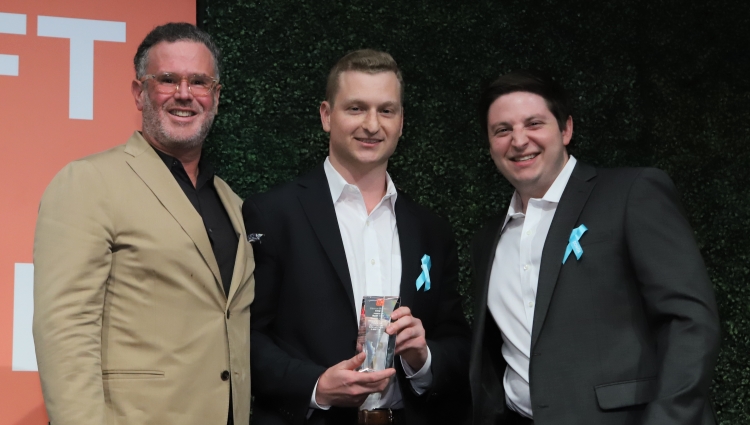 The second annual Steven Bochco Award was presented by his son, Jesse (above left) and Steven's donor, Jon Kayne (right), to Gift of Life donor Noah Starr. Noah joined Gift of Life on his Birthright Israel trip in 2017. Later that year he was called upon to donate stem cells to Michelle Sion, saving her life.
In March 2019, Gift of Life introduced them to each other at Celebrating Life New York and the two became friends. Together, they set the goal of raising $18,000 to continue Gift of Life's mission, and to date, Noah has raised more than $20,000. Noah has a large social media platform through his Instagram channel Truth Serum History and his blog, Meaningful Digressions.
"Like anyone who volunteers for a great cause, you don't do it for the praise. You do it because it's the right thing to do," said Noah. "I challenge each of you to do the same: go the extra mile in service of others."
Stem cell donor Brooke gave Sebastian a second chance at life
Gift of Life stem cell donor Brooke Dordek, 34, was thrilled to meet her recipient, lively 3-year-old Sebastian Martinez. Sebastian's parents Nancy Gonzalez and Juan Martinez, shared the story of learning their son's diagnosis of inherited immune systems disorder, and the family's joy when his donor was found.
"I am so thankful to help save a life," said Brooke. "Gift of Life guided me expertly through the donation."
"I don't have enough words to say thank you to Brooke for giving our little boy a second chance," said Juan. "We were desperate to find a donor and we are thankful Brooke made this amazing decision."
This emotional introduction was made by Gift of Life supporter and advocate, Alexis Waterman.
Donor Jeffrey and recipient Diane appeal for more donors to join registry
Diane and Jeffrey both made emotional appeals for new donors to join the registry and help save more lives.
Stem cell donor Jeffrey Altadonna, 31, an AEPi alumnus, joined the registry on his Birthright trip in 2013.
He was thrilled to meet his recipient, Diane Gebel, who was diagnosed with acute myeloid leukemia two years ago. During Diane's career she served as the Chief Nursing Officer at a hospital and administrator at a health care center. "I was accustomed to making decisions on multimillion dollar operations, then when I got sick I couldn't even make the simplest decision," said Diane.
She also said that, at 77, she was the oldest stem cell transplant patient her doctor had worked with.
Jeffrey explained that he felt his donation was the result of other people's hard work: Jay's mission to find a donor for every patient, plus the shared vision that made the partnership with Birthright – and his opportunity to join the registry – possible.
"I stand here for my recipient's battle and for her victory," said Jeffrey. "And I stand here asking you to do the same. Please sit and swab today to that someone may stand and live tomorrow."
"I have changed because of my new life – I take risks!" said Diane. "I'm living my life fully and I'm not going to disappoint any of the people who literally gave me the gift of life."
They were introduced to each other by Birthright co-founder Charles Bronfman's daughter, Ellen Bronfman Hauptman.
---
America's Value Channel Fine Art Auction open through November 22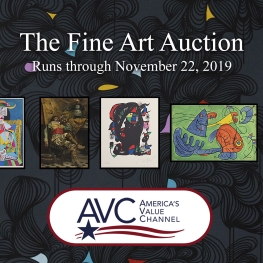 America's Value Channel Fine Art Auctions has partnered with Gift of Life Marrow Registry as a sponsor of our Los Angeles One Huge Night Gala.
Selected pieces of fine art by prominent artists including Marc Chagall, Salvador Dalí, Pablo Picasso and Joan Miró are available during this auction. A portion of the proceeds from pieces sold will benefit Gift of Life Marrow Registry.
To view or bid on these special works of art, click here to visit the auction website.
These artworks are available via the auction website through November 22.
For additional information, please contact Gift of Life Foundation and Donor Relations Officer Mindy Ginsberg at 561-982-2952.
Thank you for helping save the lives of patients batting blood cancer.
---
Photo Gallery
To view and download photos in the gallery click here.
Thank you to everyone who attended One Huge Night Los Angeles. We deeply appreciate your support for our mission: to ensure that every person in need of a marrow or stem cell donor can find one at the time they are needed.