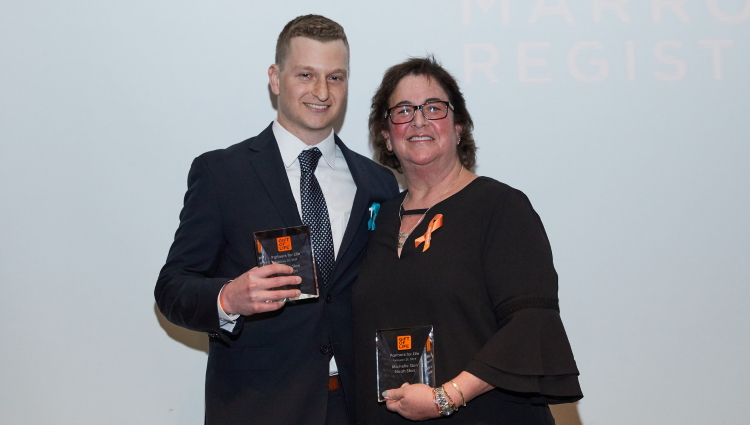 How going the extra mile will help you find meaning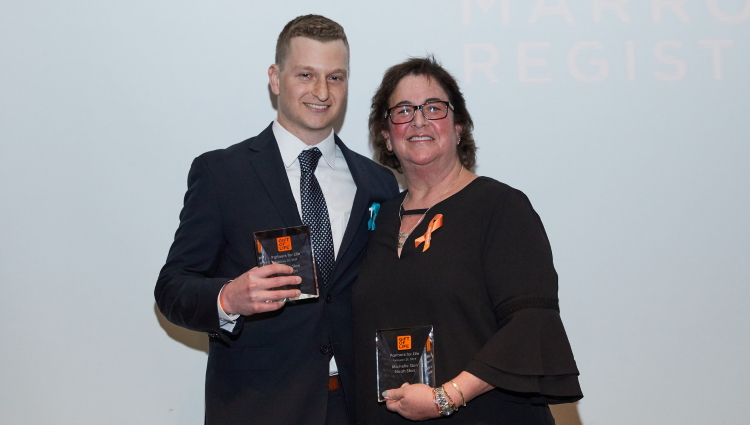 Noah saved Michelle's life by donating blood stem cells. They met in February, 2019, at Celebrating Life New York.
by Noah Starr
To be honest, I've been nervous and uncomfortable discussing the below subject in detail. The truth is that it is the best version of myself and portrays the person I wish I was, rather than the one I actually am. The idea of a used car salesman talking only about the positive traits of the vehicle while misleading or ignoring the negative traits permeates my mind.
In reality (and this should come as no surprise!), I have flaws. I am self-conscious about my physical and intellectual characteristics. I am human.
However, I feel that the below is such a powerful and compelling story that needs to be shared. And if I can't talk about the greatest thing I've ever done in my life, then what can I talk about? Here goes…
I feel vulnerable and pretentious by doing this, but I have something quite personal to share with you.
On December 18, 2017, I had the opportunity to donate stem cells to a woman battling leukemia. For six hours, I sat in a chair while blood flowed out of my right arm, through a large stem cell-separating machine, and back into my left arm (thank you, mom, for being there with me).
At the time, I didn't understand the importance of my actions. Like any person, I responded to a desperate call for help and acted. The short term pain was minor, and the long-term reward would be significant.
Due to patient confidentiality laws, I was not allowed to know anything about my recipient for at least one year. Though this is understandable in practice, it's incredibly difficult in reality. So, over the next year, I sat idly by in a state of anticipation, excitement, and curiosity.
Did my recipient live? Does she still have cancer? Will I ever get to meet this person? Did I actually do anything?
Eventually, time passed and these thoughts dissipated into the back of my mind where they'd remain.
Until, this past February, I received a call from the Gift of Life organization inviting me to their annual Celebrating Life event. But this wasn't a standard invitation; instead, they asked if I would be willing to meet my recipient on stage for the first time in front of 300 people, and speak!
As you can imagine, I was incredibly nervous but accepted. This invitation meant that my recipient survived! She was cancer-free! I had 'saved' a life.
That night was one of the most emotional, proud, and humbling moments of my life. I've scored the game-winning goal in overtime, graduated from college, and received promotions. But the idea of saving Michelle Sion, a kind, beautiful and loving person who has a husband and two children – one of whom is my age – is incredibly profound. Other accomplishments are insignificant compared to this one.
As I eagerly waited on stage in front of friends, family, and the local community, I saw a woman begin to walk up through the crowd. Eventually, as she got closer and closer, my eyes locked with hers and my body was paralyzed in a state of raw emotion. My heart began to beat faster. I lost feeling in my face. And then, we embraced.
With Michelle's arms wrapped around my body and tears streaming down her face, she whispered into my ear: "Thank you so much. You saved my life." Since her warmth was overwhelming, I zoned out in the moment and hardly noticed the hundreds of people cheering, clapping, and watching our intimate moment.
Then, we were forced to speak! Talk about letting emotions get the better of us. Though we spoke well, imagine delivering a speech in front of a large audience after going through the most emotional moment of your life. It was raw, powerful, riveting.
I will never forget meeting Michelle's husband, Koresh Sion, later that night. When I hugged Mr. Sion, with tears in his eyes, he whispered into my ear, "You're like a son to me. Thank you."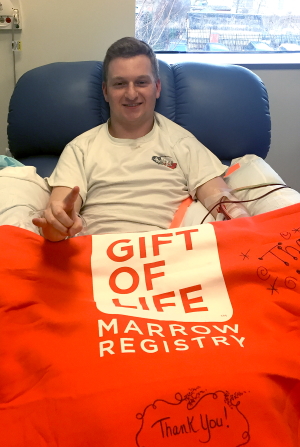 How are you supposed to react to that? All I did was sit in a chair for six hours. But at that moment, I realized what those six hours represented: the difference between life and death.
What is also profound is the organization that made this all possible: Gift of Life. Gift of Life believes that every person battling blood cancer deserves a second chance at life — and they are determined to make it happen. Their mission is literally to create moments like what Michelle and I experienced at the Celebrating Life event. What could be a more important cause?
A few months after our initial meeting, I met with Michelle and her family in Dallas. While still on an inspirational high, we decided to initiate a fundraiser and raise $18,000 for Gift of Life.
Though I was hesitant to ask my friends and family for money, I decided that the cause was bigger than myself. My initial discomfort with the fundraiser vanished when I thought about the desperation families must feel right now trying to find a donor. Every dollar raised could literally save someone's life, and that was worth my minor anxiety felt by implementing the fundraiser.
To be honest, I didn't think we would achieve our goal. But once I made a public promise of raising this money, I kicked my effort into another gear. I was a man on a mission with a sense of purpose. Since I found meaning in the fundraiser, I had to hit our goal.
The response to the fundraiser blew me away. Within two days, we raised over $7,000 from my overly generous family, friends, and community. Even strangers were so inspired that they, too, donated their hard-earned money to the cause. Ultimately, the fundraiser was a massive success. We smashed our goal and raised over $20,000!
Shortly after, GOL nominated me for the Steven Bochco award — someone who goes the extra mile to support Gift of Life's mission. And on November 4, I was the proud and humbled winner!
For those who don't know, Steven Bochco was an Emmy-award winning television producer and writer, who developed Hill Street Blues, L.A. Law, Doogie Howser, M.D., and NYPD Blue. Though he passed last year, he received a stem cell donation through Gift of Life that gave him an extra three years of life. The Bochco family created this award to continue his legacy.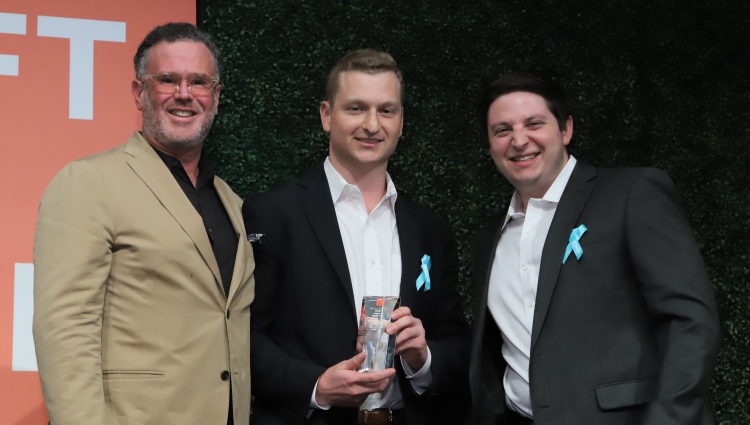 Jesse Bochco (l) and Jon Kayne (r) present Noah with the 2019 Steven Bochco Award.
The idea of being associated with Mr. Bochco, someone so brilliant, so humorous, so human, is truly inspiring. He brought joy to millions of people and his family has continued his legacy in the service of the community. I am honored and humbled to be associated with him and the entire Bochco family.
I didn't choose to get involved with Gift of Life. There was never a choice on my part whether or not to donate to Michelle. But I did choose to go the extra mile. Like anyone who volunteers for a great cause, you don't do it for praise, you do it because you feel like it is the right thing to do.
I challenge each of you, myself included, to do the same: go the extra mile in service of others. This doesn't apply to only volunteer work, but in everything that we do.
At your job when you have little going on, offer your services to your overworked and underpaid co-worker, and go the extra mile. Most likely, your coworker will thank you for your consideration and ask for your help.
When a grueling day of sports practice ends, add in an extra workout, watch game film, and go the extra mile. Most likely, you will become a better player and leader for your team.
If your roommate leaves their laundry in the drier, remove their clothes, fold them on their bed, and go the extra mile. Most likely, your roommate will say, "You didn't have to do that!" (Thanks, Cobey.)
By going the extra mile, your relationships, athletic ability, and professional skills exponentially improve and add up in the long-run to make a lasting impact.
Our time is limited, so we should use it to maximize the amount of impactful work that we do. Through this impact, we find meaning.
"There are no traffic jams on the extra mile." —Zig Ziglar
Go the extra mile.
---
Noah is a graduate of the University of Texas at Austin, and works at a financial services company. In his free time he runs the popular Instagram channel @truthserumhistory. This story was originally published on his blog, Meaningful Digressions. Reprinted here with permission.