Blood cancer and 70 other diseases can be cured through peripheral blood stem cell (PBSC) or bone marrow transplants. But a myth keeps many in the LGBTQ+ community from joining the registry: they think they will not be allowed to donate due to restrictions on the donation of whole blood by gay men. This is false. Blood stem cell and bone marrow donations are different from blood transfusions with a different set of regulations [See section The Big Myth below for more details.], and anyone 18 to 35 and in general good health may join the marrow registry.
Donating blood stem cells/bone marrow is based solely on finding a match for the patient who is willing to donate and healthy enough to do so. Every donor is evaluated based on the same medical criteria, regardless of gender identity, sexual orientation, and ethnicity.
Through Gift of Life Marrow Registry, members of the LGBTQ+ community can engage in the lifesaving community service many have wished for with a simple cheek swab. There have been many LGBTQ+ donors who say helping a patient battle a life-threatening disease was an incredible, fulfilling experience.
---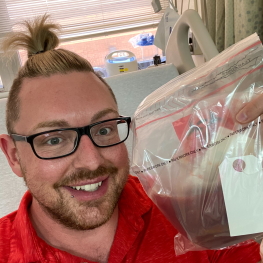 "Throughout the entire stem cell donation process there was a small pit in my stomach as I felt that at any moment I would be told 'no' because I am gay. With every step, I started to realize that my sexuality didn't play a role – they asked the same questions of me they ask of every donor."
– Cody, Gift of Life stem cell donor
---
Privacy Protection
When you join Gift of Life's registry, your information is strictly private and is protected under the same HIPAA regulations as when you see your doctor. When your tissue type is shared on the worldwide marrow registry, only a donor identification number, your age, sex at birth, and tissue type are entered; all other information remains with Gift of Life. Only Gift of Life will initiate contact with you if you are ever found to match a patient in need, and we handle the entire donation process to ensure your safety.
Who can join the registry and donate?
Anyone 18 to 35 years old and in general good health is invited to join the registry, including the LGBTQ+ community. Your ability to join the registry is based on a medical history questionnaire that is the same for every person who volunteers. Identical criteria are used for everyone regardless of sexual preference and activity, gender identity, and ethnicity.
To become a donor, you must be a match for a patient's human leukocyte antigens (HLA), a set of immune system factors that are inherited from your biological parents. You will also receive a medical examination to ensure that you are in a healthy condition to donate. Our priority is the safety of our donors. Sometimes a donor is unable to donate due to either a temporary or permanent medical condition (see below for a link to this list). For safety, women are deferred from donating during pregnancy and for several months after giving birth.
For more details on medical conditions affecting Donor Eligibility, click here.
---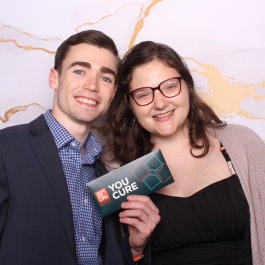 "Donating bone marrow as a gay man felt empowering. When I first met my recipient, Brianne, face-to-face, it was incredible. And, oh, what a remarkable person she is! Our community has endured a lot, both good and bad, but something that has not changed is our unwavering power of kindness. Get out there, register, and help save a life."
– Tony Joe, Gift of Life bone marrow donor
---
Why do we need volunteers who are 18 to 35 years old?
This is the age group most likely to be called on to donate. Statistics gathered from five decades of transplants have shown that younger donors produce a better outcome for the patient. Once you are on the registry, you can remain registered until your 61st birthday, and may be called at any time, possibly even years after joining the registry. Donors 36 to 60 years old may also join the registry, but we ask that they cover the cost of their kits. Click here to learn more.
---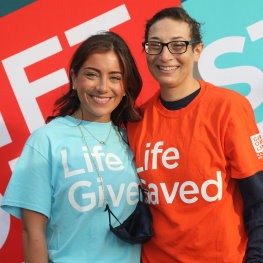 "Donating lifesaving bone marrow or stem cells is not discriminatory. The day I was able to meet my stem cell donor Nicole (l) face-to-face is one of the best days of my life! My donor will forever be part of my life and every day I have on this earth is thanks to her."
–Rebekah, Gift of Life stem cell transplant recipient
---
The Big Myth
Many people believe gay men are unable to join the registry or donate due to restrictions on the donation of whole blood. This is false; men who are sexually active with men, regardless of their sexual orientation, can join the registry and are able to donate PBSC and bone marrow based on the same criteria as everyone else. PBSC and bone marrow transplantation is conducted under a different set of regulations than those pertaining to blood banks.
In the past, gay men were restricted from donating whole blood due to the inability of blood banks to accurately detect the presence of the HIV virus. That is no longer the case and blood bank regulations have changed several times in recent years. Current blood bank regulations can be found here, but again, blood donation regulations do not affect your ability to become a lifesaving donor and do not pertain to the stem cell/marrow registry.
Why does Gift of Life need you?
We believe that no one should lose their life for the lack of a matching donor, when there is someone out there who can save them with a blood stem cell or bone marrow donation. But unrelated matches can't be found unless a donor is part of a marrow registry. Finding an HLA match with another person is rare (only 1 in 1250 of our registry members will be called on to donate), so the more donors who join the registry, the more likely it becomes for a patient to find their donor.
For us, this is personal. Our Founder and CEO, Jay Feinberg, survived leukemia thanks to his bone marrow donor, Becky. But it took four years of his family running donor recruitment events to find Becky, with more than 60,000 people being tested. Many patients need a donor right away, and are unable to wait four years.
---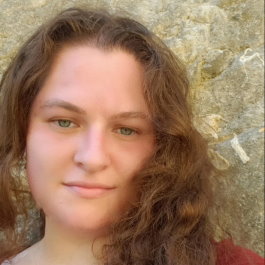 "As a lesbian I never faced the restrictions that LGBTQ+ males faced at blood banks, and it is frustrating that such restrictions exist – but there are NO restrictions on joining the bone marrow registry. I extend an invitation to all my fellow queer peers: You, too, can save lives, your gender identity does not hinder your ability to donate lifesaving stem cells or bone marrow. Join the registry with pride. The world is counting on you, too."
– Rebecca, Gift of Life Campus Ambassador
---
Get Involved!
Are you looking for a community service opportunity? Running a donor recruitment event in your community is easy. We provide everything you need to invite new donors to join the registry, including swab kits, swag items, marketing materials and free shipping to return your completed swab kits. Please contact our Recruitment Department at
info@giftoflife.org
.
Stories from our LGBTQ+ donors and recipients
Our LGBTQ+ donors and recipients have heartwarming stories to share. Click on the links below:
---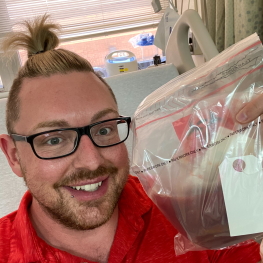 Cody, a high school debate coach and theatre director, donated peripheral blood stem cells to save the life of a 9-year-old girl battling leukemia.
---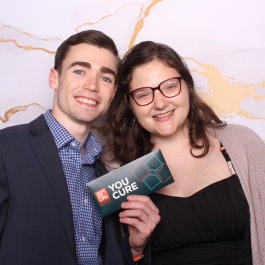 Tony Joe donated bone marrow to save Brianne during her battle with leukemia. They met for the first time in May 2020 at a "Hockey Fights Cancer" event at a Nashville Predators hockey game.
---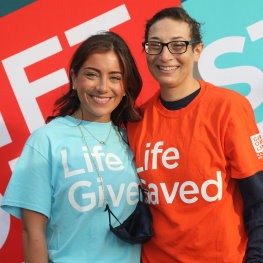 Transplant recipient Rebekah's (r) life was saved by a stem cell donation from her donor Nicole. The two were introduced in January 2022 at Gift of Life's Steps for Life 5k in Boca Raton, Fla.
---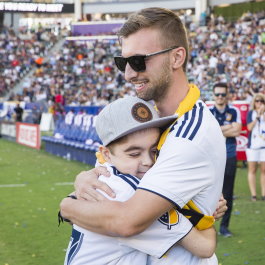 Aaron (r) donated bone marrow to save Seth's life when he was fighting to survive aplastic anemia, a rare bone marrow cancer. The two met for the first time during an LA Galaxy game for Major League Soccer's Childhood Cancer Awareness Month in 2018.