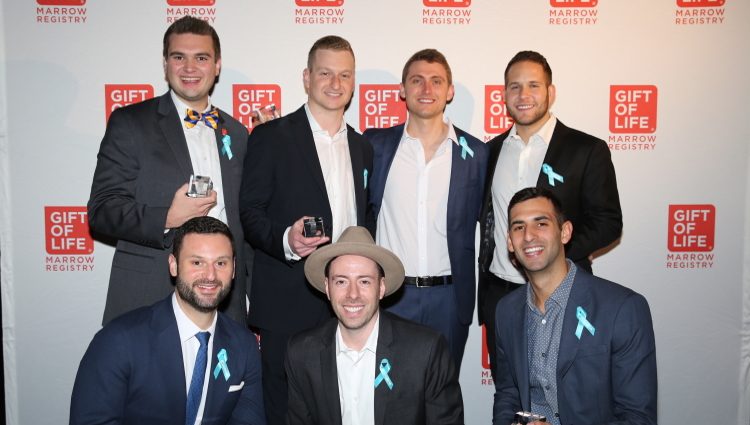 Birthright Israel donors honored to mark 15th year of partnership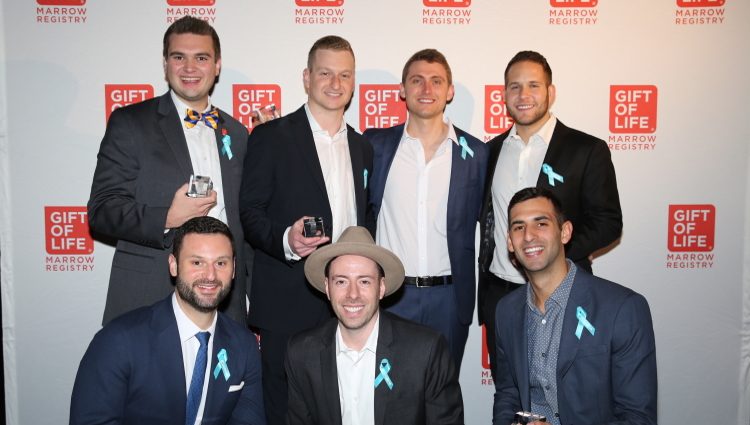 Back row l-r: Ben Atwater, Noah Starr, Andrew Firestone, Alex Weiss. Front row l-r: Eric Gurevich, Mike Sprachman, Jared Stein.
This year we celebrated an alliance that has saved hundreds of lives: the 15th anniversary of Gift of Life's partnership with Birthright Israel. To date, more than 91,000 Birthright Israel participants have joined the registry, resulting in 255 lives saved.
At Celebrating Life, Gift of Life Chairman Stephen Siegel recognized seven Birthright Israel donors who have gone above and beyond for Gift of Life: Benjamin Atwater, Andrew Firestone, Eric Gurevich, Michael Sprachman, Noah Starr, Jared Stein and Alex Weiss.
Benjamin Atwater joined the registry in June, 2017, and in November, 2019 donated peripheral blood stem cells at the newly opened Adelson Collection Center for a woman battling AML. Ben has taken on Gift of Life's mission as his own. Recently, he ran 30 drives in 30 days, swabbing 675 new donors for the registry through Gift of Life's partnership with Birthright Israel.
Andrew Firestone joined Gift of Life in January 2018, and in July 2019 he donated peripheral blood stem cells to a 60-year-old woman battling AML. He is involved in both San Francisco and New York City Young Professionals Committees, looking to inspire others to donate and give of their time.
Eric Gurevich donated two times to his recipient, 58-year-old Ron Dreben, who is the survivor of myelodysplastic syndrome. They were introduced at Cocktails and Conversation in Miami Beach in 2017. Eric is a constant advocate for Gift of Life, often speaking with donors who want to understand the process better before donating. In 2018, Gift of Life and the family of Steven Bochco recognized Eric as the first Steven Bochco Award winner.
Michael Sprachman embodies the qualities of empowerment and leadership, and is one of our greatest advocates. He joined the registry in June 2008, and in April 2013, donated stem cells to a 72-year-old man batting AML. He was one of the first members of the New York City Young Professionals Committee, and is now serving as its chairman.
Noah Starr is a true gift to Gift of Life. He is on a personal mission to raise $100,000 for the organization in memory of his recipient Michelle Sion, who battled leukemia. Michelle gained two precious additional years with her husband and children. Noah uses his Instagram channel TruthSerumHistory and his personal blog, Meaningful Digressions, to promote the need for more donors to join the registry. Noah was recognized with the 2019 Steven Bochco Award for his creative and innovative support of Gift of Life's mission. To date, he has raised more than $45,000 toward his goal.
Jared Stein is the ultimate spokesperson for Gift of Life and attends engagements all over the country on behalf of the organization. He joined the registry in 2011, and just over a year later donated stem cells to Jill Ginsberg, a 61-year-old woman battling non-Hodgkins lymphoma. They met in 2015 at the first Celebrating Life event. Jared has run more than 30 drives and swabbed over 1,100 people, resulting in seven lives saved to date. Together, Jared and his family are deeply involved in organizing the Steps for Life 5k of Boston, and in 2017, were recognized with Gift of Life's Distinguished Service Award. Jared is active as a co-chair of the Boston Young Professionals Committee, and for the second year is organizing Celebrating Life Boston along with Dan Adelson.
Alex Weiss joined Gift of Life in May 2015, and just over a year later, he donated stem cells to save the life of then five-year-old Idan Zablocki, who was battling for his life against a rare immune disorder, Hyper IgM. Idan is now a healthy and active seven-year-old. They were introduced at Gift of Life's One Huge Night Gala in New York City in 2018, and since then, Alex has been inspired to become an incredible spokesman for the organization, talking to potential donors who want to learn more about the process, and also at public events.
Gift of Life thanks Northwell Health and Finn Partners for sponsoring Celebrating Life New York City.
Photo Gallery
To view the event photo gallery, click here.
To join one of our Young Professional Committees and help organize events, fundraise, and network with your peers, please contact Sydney Stupp, sstupp@giftoflife.org.